Welcome to the September 2023 edition of naked celebrities! The finest in flesh flashing celebs desperate for even more attention than they already get. Being famous isn't enough when there are column inches to be had, and there's always a chance of becoming MORE of a celebrity if you expose yourself for the camera and go viral.
Fame hungry celebrities from A-listers to starlets all know the golden rule. Sex sells, and so do their nude bodies. Eye popping cleavage, a nip slip here and there, thigh flashing, downblouses, and outright nude appearances on screen bring in the publicity like nothing else. And when you crave attention there's always an easy fix – go naked!
With new releases, premieres, awards ceremonies, events, and parties there are plenty of opportunities for those celebs to get sexy.
They may not have had CelebMeat.com in mind when they decided to show some skin but no such thing as bad publicity is how the saying goes, and we're glad to help!
September 2023 saw MTV's VMA Awards as well as New York's Fashion Week. Plenty of scope for the latest craze amongst celebrities – that of attending events in so called naked outfits. As the name suggests, it's an outfit where you may as well be naked! Celebs who obliged included Doja Cat, Emily Ratajkowski, Lourdes Leon (daughter of serial nude exhibitionist Madonna), Tinashe, and Julia Fox. These naughty celebrity flashers engaged in pretty much public nudity as they made sure as much of their uncovered bodies as possible were revealed. Enjoy.
Doja Cat's Tits In Naked Outfit
First up in the brazen display stakes is Doja Cat. Donning a dress that exposes her tits, Doja wore this bundle of string in a spider web design with just panties and heels. Past ensembles have included going braless for Time Magazine, braless again to promote an album, partying practically topless (AND topless!) and posting nude snaps on her social media.
Doja posted the nude pictures below including the shot of her baring her boobs at a party to celebrate her birthday. That's how you roll when you're famous!

The 🔞 banner above leads to the rest of those birthday bash snaps, where Doja gets into the party mood by letting her girlfriends grope her bare breasts. That's one way to celebrate – the ones Doja didn't post online oughtta make for great viewing when they are finally 'leaked'!
Emily Ratajkowski Braless In Sheer Dress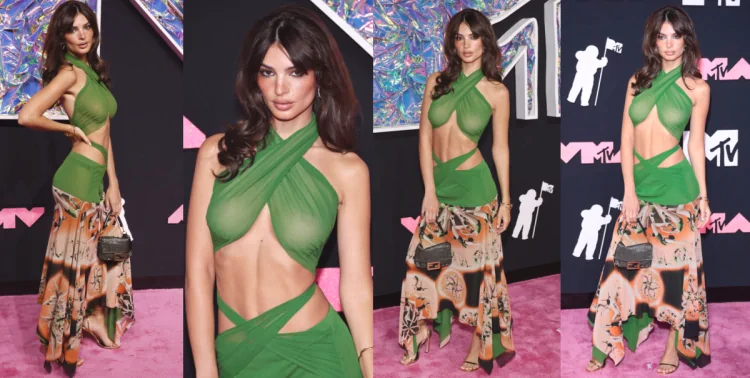 Always willing to show off her big celebrity tits, Emily went with a sheer braless choice for the same VMA awards. Full marks for not bothering with pasties – Emily is fiercely Free The Nipple, and why not. As good as her showing was with this naked outfit, Emily has bared far more over the years. One of our favorite naked celebrities currently, have a look at this glorious babe's nude body in all it's natural glory. What an absolutely amazing set of big natural tits! Emily's shaved nude pussy looks good enough to bury your face in as well.

Lourdes Leon Flashing Her Naked Tits Around Town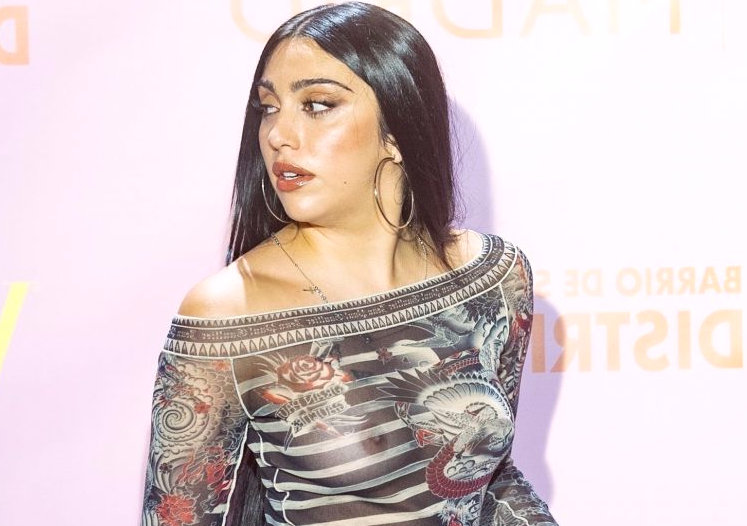 Lourdes Leon, daughter of superstar flesh flasher Madonna, got busy this month flashing her tits around at various events. The above bare tit and nipple exposure was at the Vogue fashion night in Madrid. Lourdes's dress did little to hide her naked boobs – which was of course the plan all along. Coupled with a G-string thong, Lourdes made sure her ass got a good viewing by everyone as well.
Prior to that Lourdes also sported the latest naked celebrity spiderweb dress for the some Victoria's Secret shindig. Maybe it was a little colder in New York, as Lourdes was completely overdressed in nipple pasties. What a fashion faux pas!
Julia Fox Pretty Much Naked & Showing Her Pussy
If you can't show your bald shaved pussy at New York Fashion Week then when can you. That's what seems to be Julia Fox's outlook anyway as she goes fro gold in this nuts outfit that barely covers her vagina and boobs. Known for styling outrageous outfits, Julia kicked things up a notch with this head turner. Not content with wearing it inside, Julia almost caused an accident when she strutted her stuff outside in traffic. This is about as naked in public as you can get without being arrested! An outdoors nip slip and celebrity pussy slip for the history annals.
Julia also has previous form for showing everyone her tits under the guise of fashion as we can see below.
It's a good job none of these naked celebrities are attention whores, or we'd really see them go for it – like the celebs who have released or 'leaked' (yeah, sure it was a 'leak' lol) their home sex tapes:
But we're saying nothing about that. As if publicity seeking celebrities would ever do such a cynical thing as leak their own nudes! 😉