Strap yourselves in for this bumper bonanza of Hollywood legend Farrah Fawcett nude in all her wonderful glory. Famed for having the top ranking set of nipples during the 70s and 80s which featured prominently in the Charlie's Angels TV show, this iconic actress also bared all as her acting career went on. Oh, aside from the time her bare tit was on show in an early episode of Angels, that nobody noticed until it was far too late! And yes, we have that video clip below!
Starting out teasing men – and lesbians of course – the world over with her peanut smuggling pokies exploits, Farrah moved on to getting her tits out. From then it was only natural she'd eventually show us herself far more naked. Here we take a look at pictures and videos as one of Hollywood's all time greats performs the longest striptease in history. It took 2 decades to go from flaunting her oversized nipples in tight fitting tops to Farrah giving us a full frontal, which has to be a record!
Farrah Fawcett Nipple Pokies Video
Farrah goes in for some outstanding peanut smuggling in this scene from classic movie Cannonball Run. Braless and seemingly freezing cold judging by those hat pegs, Farrah's nipples steal the show with their in your face appearance. No wonder Burt has a smirk for the duration. The low cut dress also gives a nice bit of cleavage and even a hint of sideboob. Sensible of Fawcett to have those huge glasses as well on set in case of accidential facials as a result of her erect nips on parade. Smart lady!
Farrah Fawcett Nip Slip On Charlie's Angels
Yep this really did go uncaught by TV execs and was aired (and still is, on reruns) showing Farrah's right tit join in with the whole escape thing going on. In the show, the Angels get arrested and bust out of custody. Farrah's breast decided to get with the event and do some busting out of their own. It's not often you get a nippleslip on primetime television, and that it was in this famously family friendly show makes it all the more glorious. Behold the escaping boob.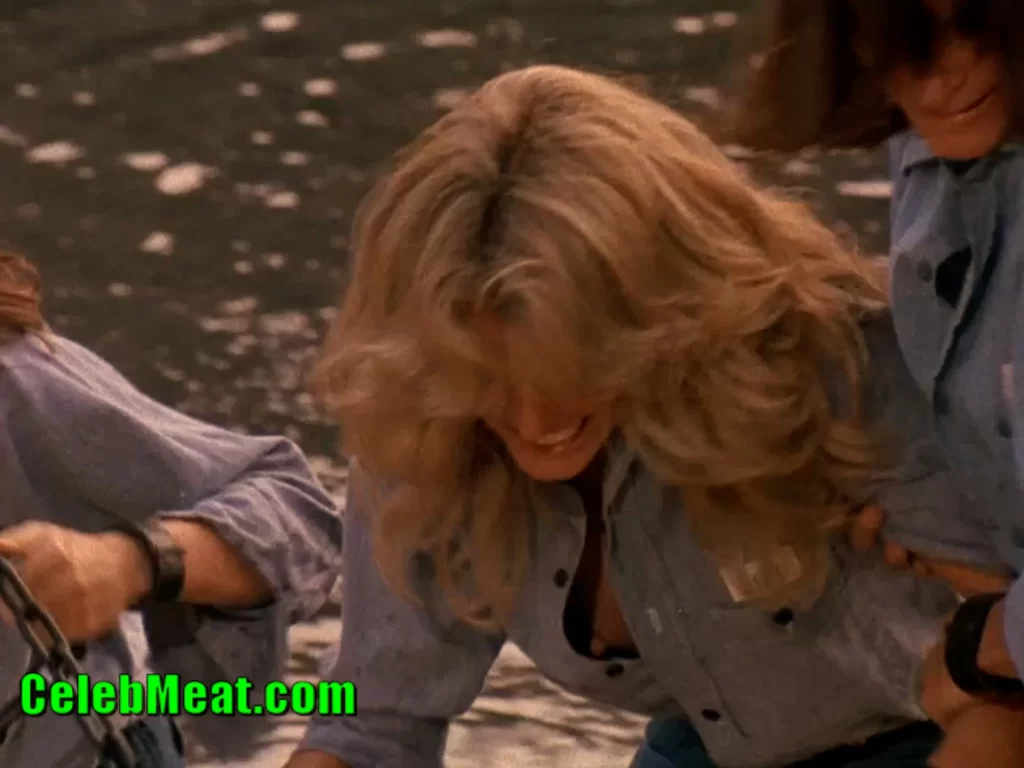 Farrah Fawcett Sexy Stockings & Nip Slip (Saturn 3)
This video clip from Saturn 3 actually comes after the below nude sequence, but she looks so good that we had to show Farrah in sexy stockings with that hint of nip slip to prime us all for her naked tits on parade. Burty boy gives the look that all of us are feeling as he eyes up Farrah's high cut crotch barely covering her pussy lips.
Farrah makes quite the slutty futuristic robot or whatever she is supposed to be in the flick. Whatever the part, heels, sexy stockings and suspenders, plus her tits spilling out of her outfit are wank worthy indeed. Tell me that everyone on set didn't have a wank over Farrah dressed like this, and I'll call you naive. Fuck Saturn, the only '3' we're interested in is the 3 cheers for Farrah Fawcett's boobs!
Farrah Fawcett Nude Video (Saturn 3)
Farrah's tits get a proper airing in this nude shower scene from movie 'Saturn 3', alongside Burt Lancaster. Fawcett plays his younger lover and shares a shower with him before exposing her breasts. In return she got to see his saggy old ass later in the movie, which we'll spare you from. Looks like Farrah has had a boob job, but we can't be certain. If so, she was one of the earliest in Hollywood to have the procedure done. Thankfully Farrah's rockstar nipples have stayed a constant.
Some of you may not be aware of just how big a celebrity Farrah was back in the 70s & 80s. She was absolutely huge at the height of her fame, and had men the world over masturbating to her ever-present pokies, rare nudity, and all round sex appeal. Those doe eyes of hers were made for looking up at you while Farrah gave blowjobs. Lucky men, those who experienced it first-hand!
Farrah Fawcett Nude Full Frontal Video
At the ripe old age of 53, Farrah went completely starkers for a full frontal nude outing in Dr T & The Women. Fawcett's character stripped naked for a bit of fountain dancing, because why not. Farrah's breasts are out along with her infamous rubber nipples (though Bai Ling's monster nipples outdo even Farrah's!) erect from the water. Even better than her boobs though is the fact Farrah went 100% nude for the scene. In one of those 'I needed to feel the character' moments that actresses are famous for, Farrah declined a modesty cover for her private parts, choosing to go totally au naturel. Good for us. We mean her.
The sneaky director did his best to make Farrah's pussy hard to see, and mostly succeeded unfortunately. However you can make out those golden pubes thanks to the stills we've extracted.
Farrah looks absolutely outrageous for a 53 year old, and even at the supposed mature age when it comes to dividing women up, she classifies for a top level milf. Hell, most 20-somethings would be proud to have a naked body like Farrah has here.
No two ways about it, Farrah is fucking fantastic. It took her a while to get to the fully nude stage, but by fuck was it worth the wait. These aren't her only nudes, Farrah caused controversy at the age of 50 when she posed naked for a famous magazine pictorial. We'll hear from their legal team if we dare to publish any of them here, but here's a bit of inside info: C-Zoom has ALL those and more… just tap on the banner below and get ready for your eyes to pop, and your zipper to burst!
Heartfelt thanks for the wanks, Farrah – props for not hiding that exquisite unclothed body from the planet. If that isn't the Lord's work right there, we don't know what is!