Get ready for a feast of flesh as Kimberley Garner nude and sexy as fuck grace the page here at CelebMeat. The 30 year old milf actress, who is also a swimwear designer, and 'socialite' for whatever that's worth, is also a television personalitits. Sorry – personality. Apparently she is also a Christian – yeah… I know many religious people, and you can CALL yourself a Christian, but when you flash your nude body around and dress up in the skimpiest, most daring dresses ever, you ain't no Christian lol. God being sad aside, if more religious types dressed like this, and exposed their tits as often – as long as they looked like this truly beautiful celebrity – the world would be a much happier place. Probably. Let's get cracking!
Kimberley Garner Sexy Bikini – Gold G-string
Ooh la la, Kim looking fine here as she steps out on the beach in full make-up and perfect hair, as you do, and a nice tiny g string bikini that positively screams 'do not look at me, I hate it.. I'm a 'Christian' you know' 🤪 That's one hell of a figure though 🥳
Kimberley Garner Sexy Bikini – Yellow Thong
Celebrity ass cheeks alert as Kimberley dons a yellow thong bikini that shows off her peach and sexy legs. Anyone know which beach she frequents? No? Ok then, I'll be over here getting a semi over her luscious body…
I bet they barely move when Kimberley Garner gets fucked from behind and gets some playful slaps on the ass. Great job on the firm and toned buttocks! Those ass cheeks would feel great squeezing my cock as I slipped inside your anus. Just saying! I'll settle for just rubbing in the suntan lotion next time you need to hit the beach to be honest.
Kimberley Garner Nip Slips
I spy with my little eye.. celebrity nipples! They may not be the biggest pair of tits on a celeb, but they are in very good shape, nice and firm, and here we get to see some Kimberley Garner nip slips in a few candid oops moments, including a downblouse for good measure. Some nice views on offer!
And a reverse angle thing like they do on sports programmes to make it sound all technical, of Kimberley's tit slip…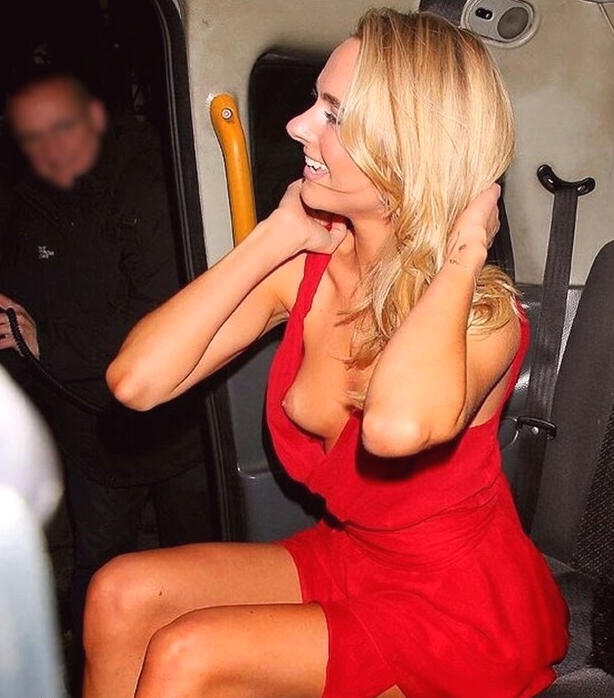 Kimberley Garner Cameltoe
You can't beat a bit of celebrity cameltoe, and here's Kim showing us her vagina lips in a pair of wet bikini bottoms, where you can clearly see her pussy. To be fair, it's not like thaere was that much covering it up to begin with, which seems to be a sexy celebrity trick they often use. After all, it's about as close as you can get to being nude in public without actually going that far. A sweet sight indeed: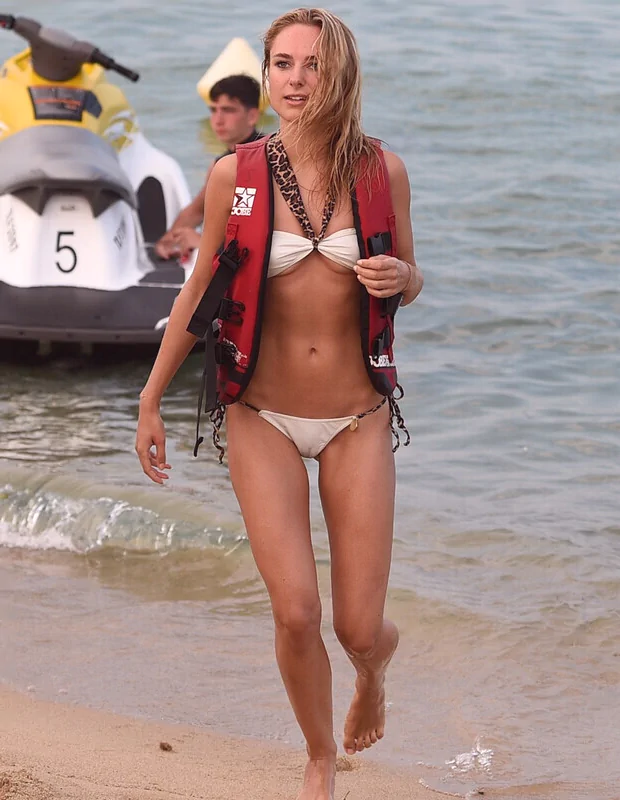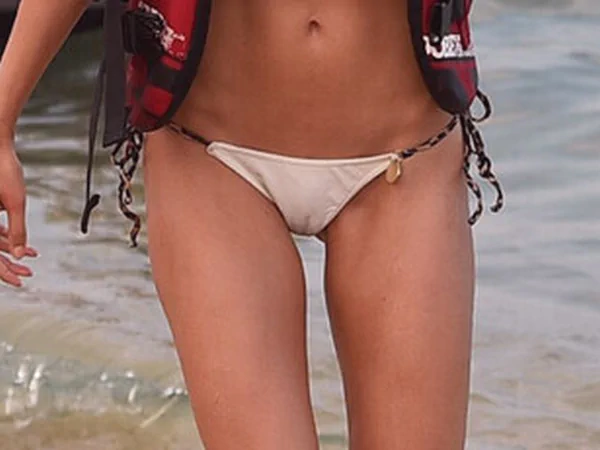 Quite the beautiful celebrity, and all the better when she is nude or sexy. Oh and she allegedly loves it when you pull your cock out and have a wank over her. Probably, anyway – who doesn't?

Kimberley Garner Sexy Legs
Check out the pins on Kimberley Garner as she flashes her thighs and treats us to a view of her perfect sexy legs in and out of a taxi, in what looks like is probably London, going by the cab style. Obviously enjoying the attention from the photographers, Kimberley isn't nude but sure is looking sexy and plays up for the paparazzi by giving them some thigh flashing and sexy leg display. Feast your eyes on these, and imagine them wrapped around your neck! 😜