An underrated Hollywood beauty who has had her tits out on multiple occasions and what a lovely pair of boobs Emilia Clarke has.
Here we look at her nude and sexy scenes so strap in and enjoy the scenery… and very nice it is too, as we get to see this delightful lady with both blonde and brunette hair, a variety of cleavage and sideboob awards outfits and photoshoots, her bare boobs and ass on show as she strips completely naked, soaking in the bath with her breasts on display, and well, you get the idea.
We'll warn you that this first video contains Emilia nude and having her breasts groped a little. So if you're offended by naked women you may get a shock.
The rest of us however will appreciate this fine example of Emilia unclothed, as she demonstrates what a marvellous pair of boobs she has. Along with that amazing ass and sweeter than honey legs.
The above topless clip is just a taster, there are more Emilia Clarke nude videos after the pictures…
This smoking hot celebrity milf was born in 1986, and often flashes her tits. Hey, it rhymes! But enough tomfoolery, you and me both want to get on with the nudity so here we go.
As always we start sexy and work to the nude, so the further you scroll the naughtier it gets, so that gives plenty of fair warning for those who REALLY ended up here by mistake.
For the rest of us who can't wait to see Emilia naked, enjoy!
Pokies, Downblouse, Cleavage and Sideboob
Emilia has a fine set of nipples on her that get very erect, which makes for great peanut smuggling moments. As always, you never really know if the woman in question is feeling horny or cold. A little bit of both is our verdict.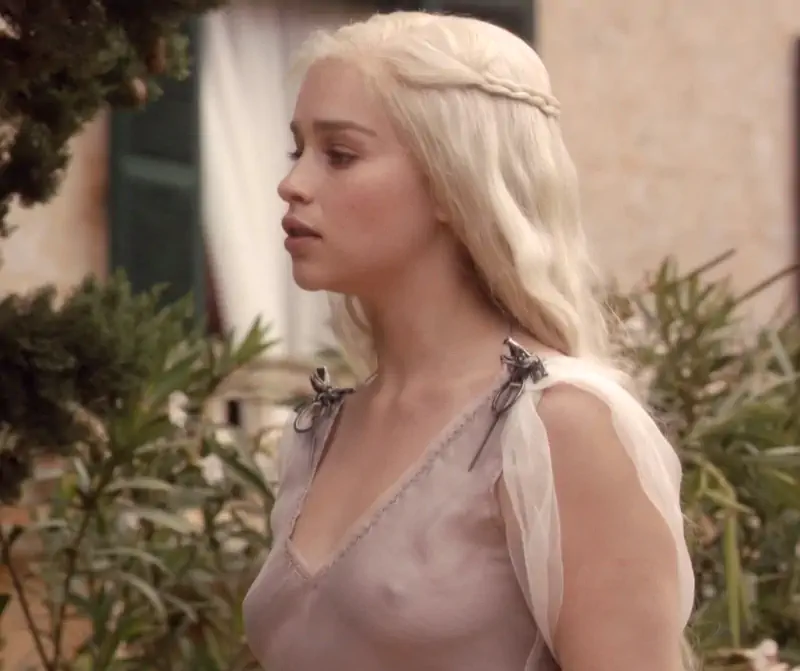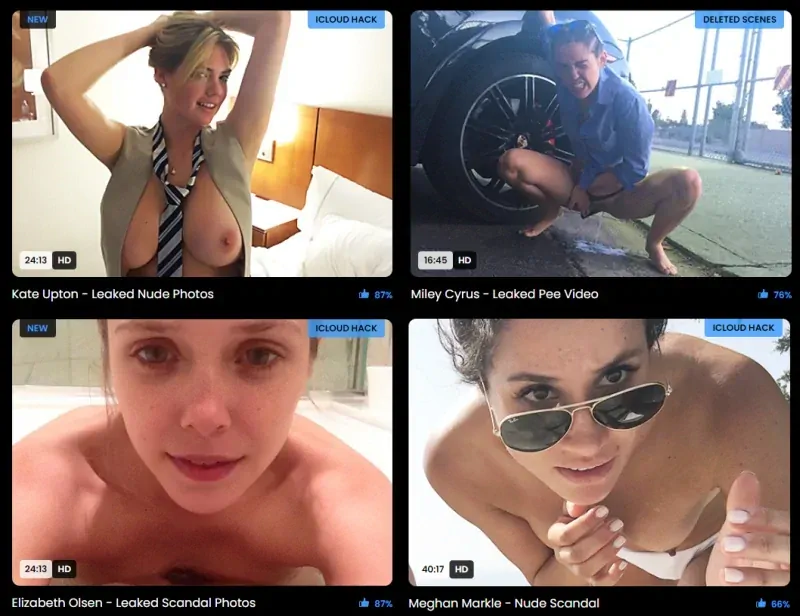 Game of Thrones star Emilia Clarke was born in London, England, and grew up with her mother, a highly successful business consultant, and father, a sound engineer. Clarke's ancestry includes descendants from India, thanks to a secret affair her great-grandma had.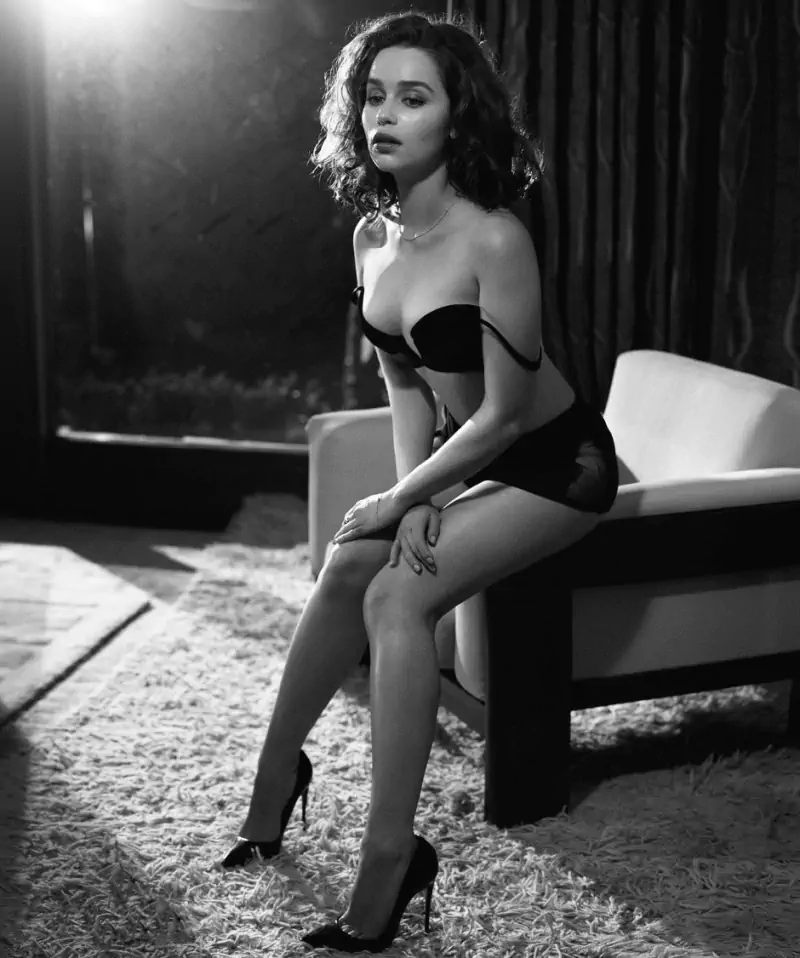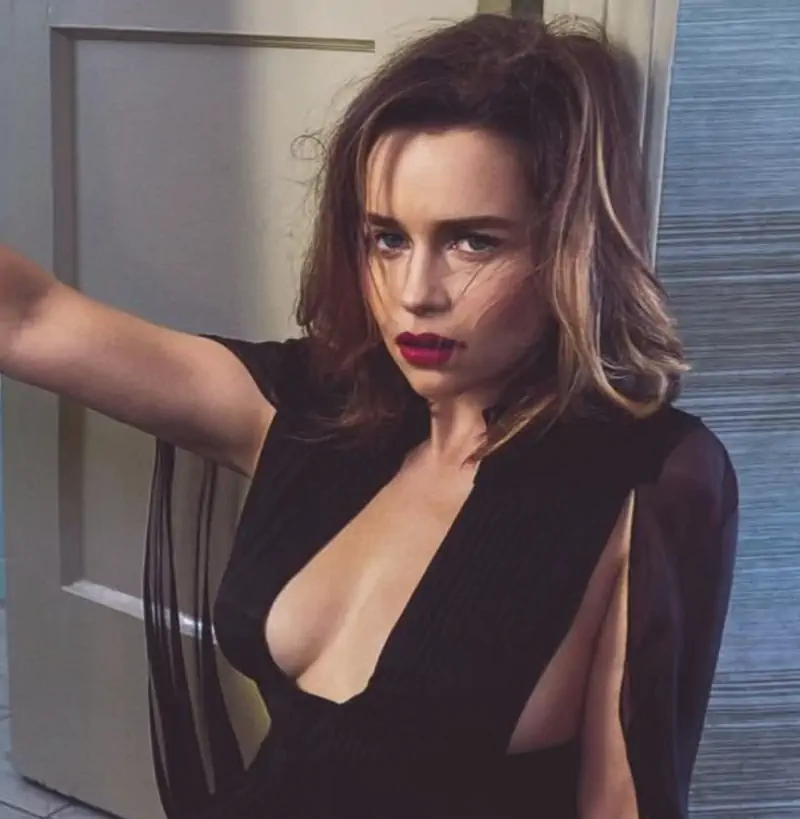 Emilia's breakthrough role came with Game Of Thrones hitting headlines everywhere in 2010. Even if you've never watched a single episode, it's extremely unlikely you've never heard of it.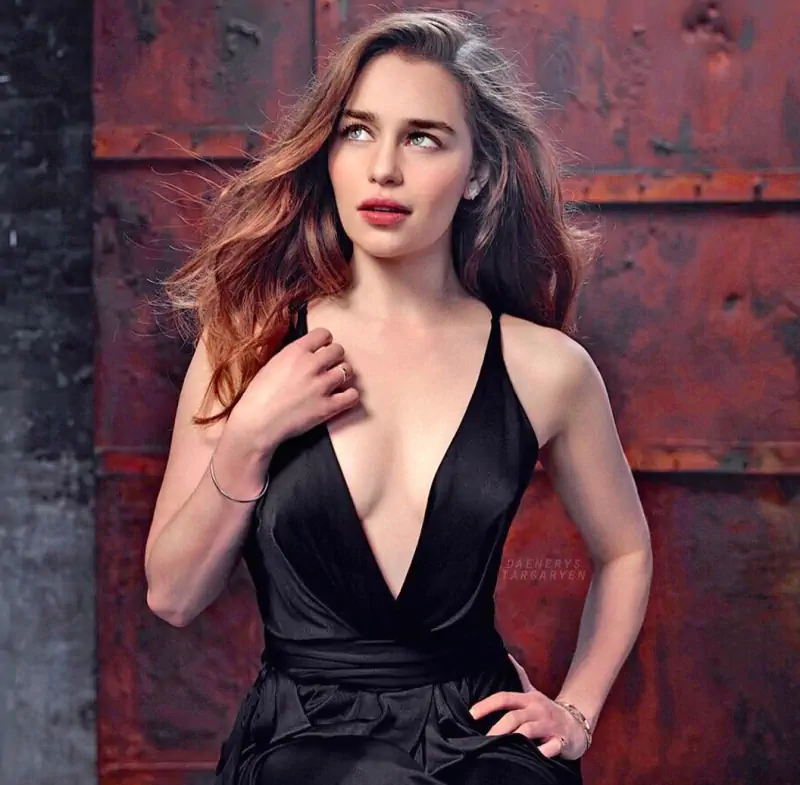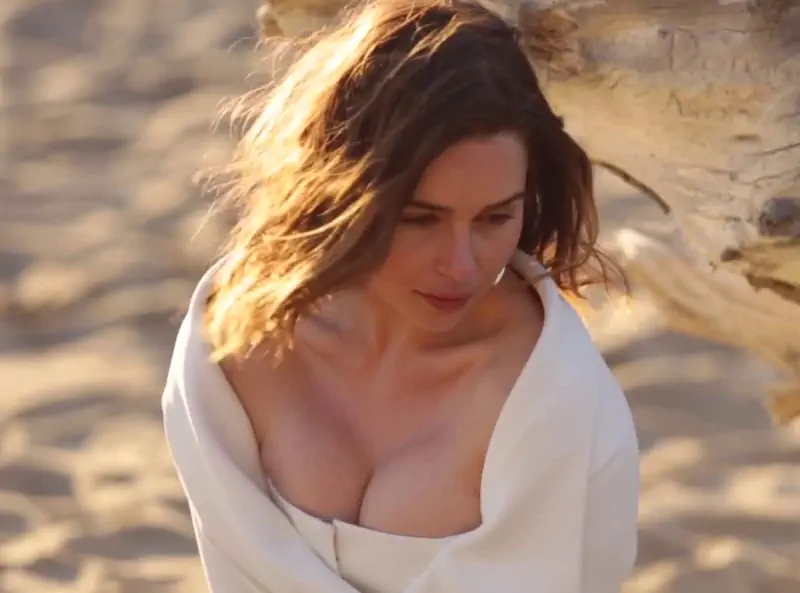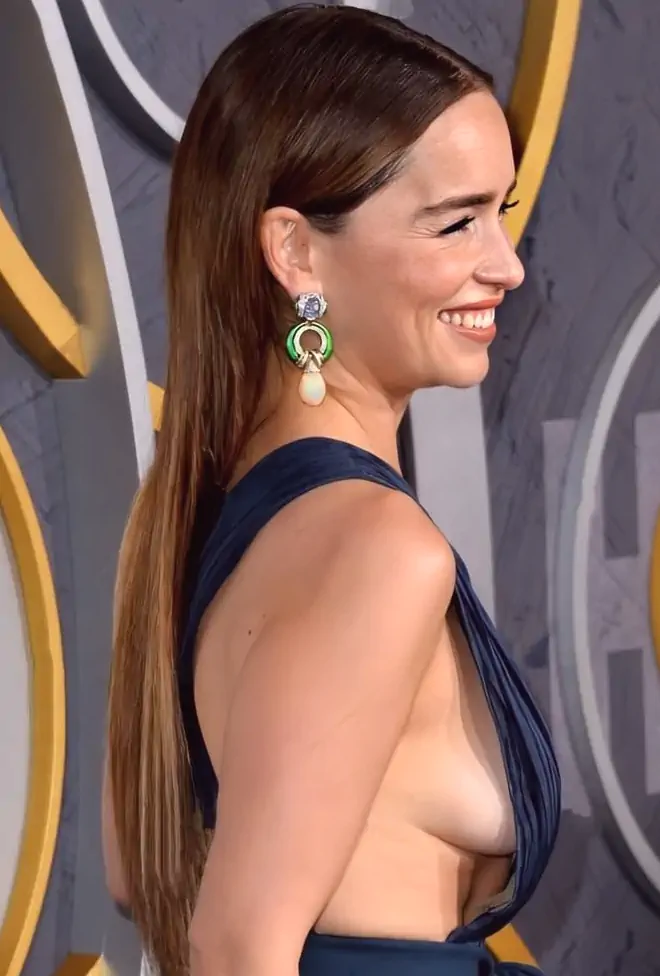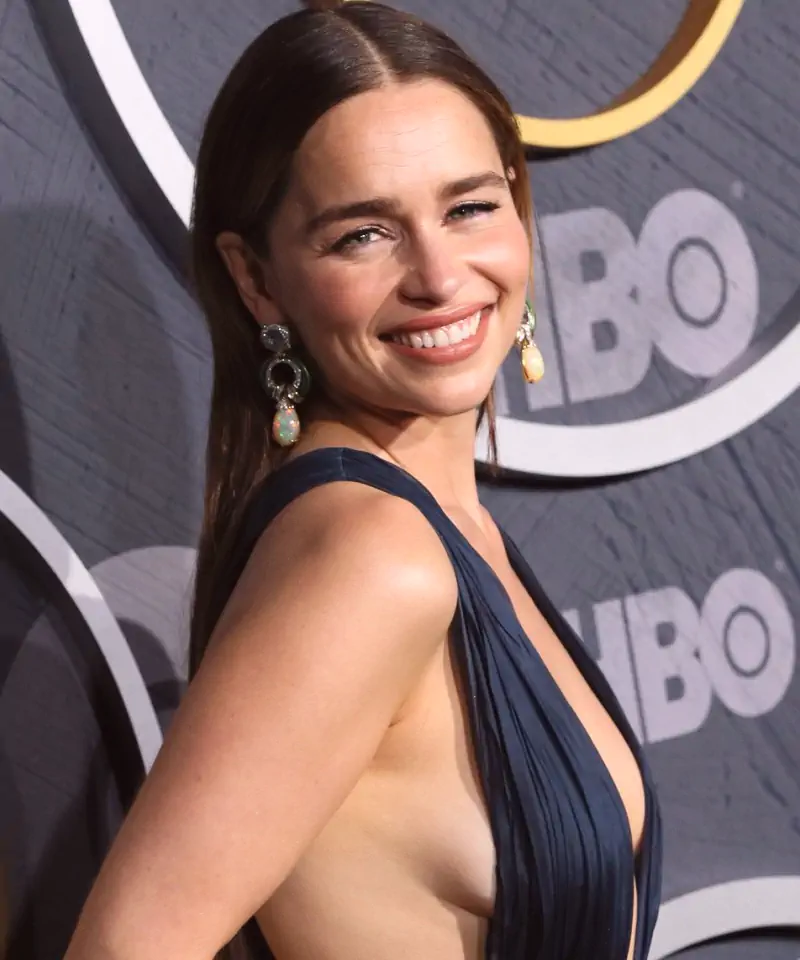 Thanks to the insane success of the show a star was made, and her smouldering looks plus Emilia's willingness to parade her nude body on screen thrust her into the spotlight faster than you'd thrust your dick in her given the half chance.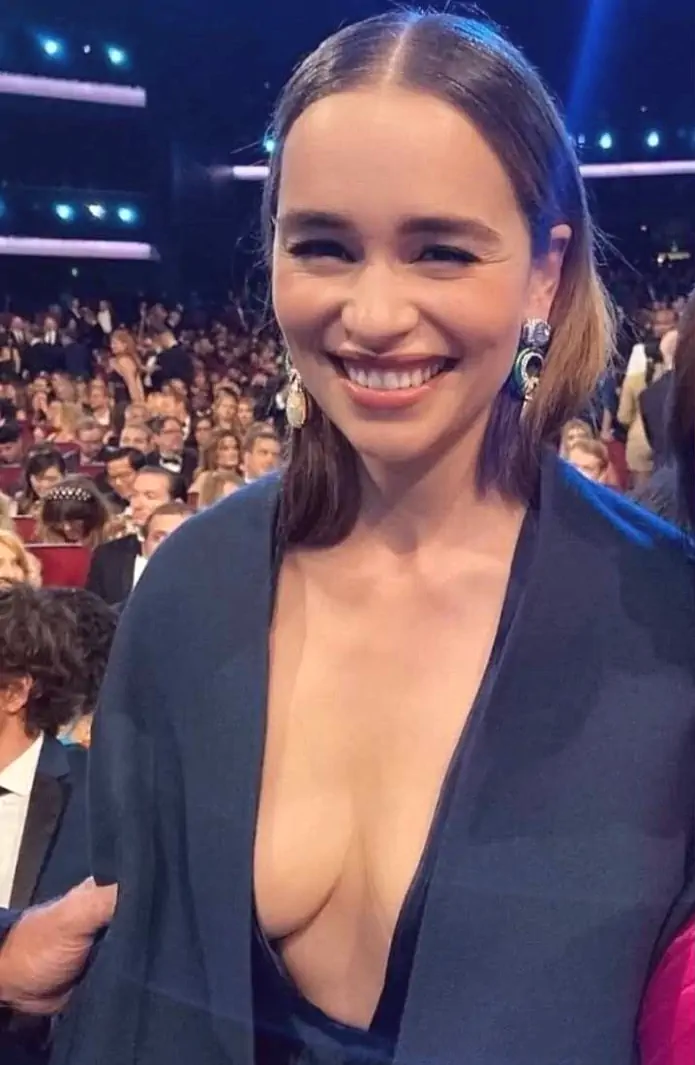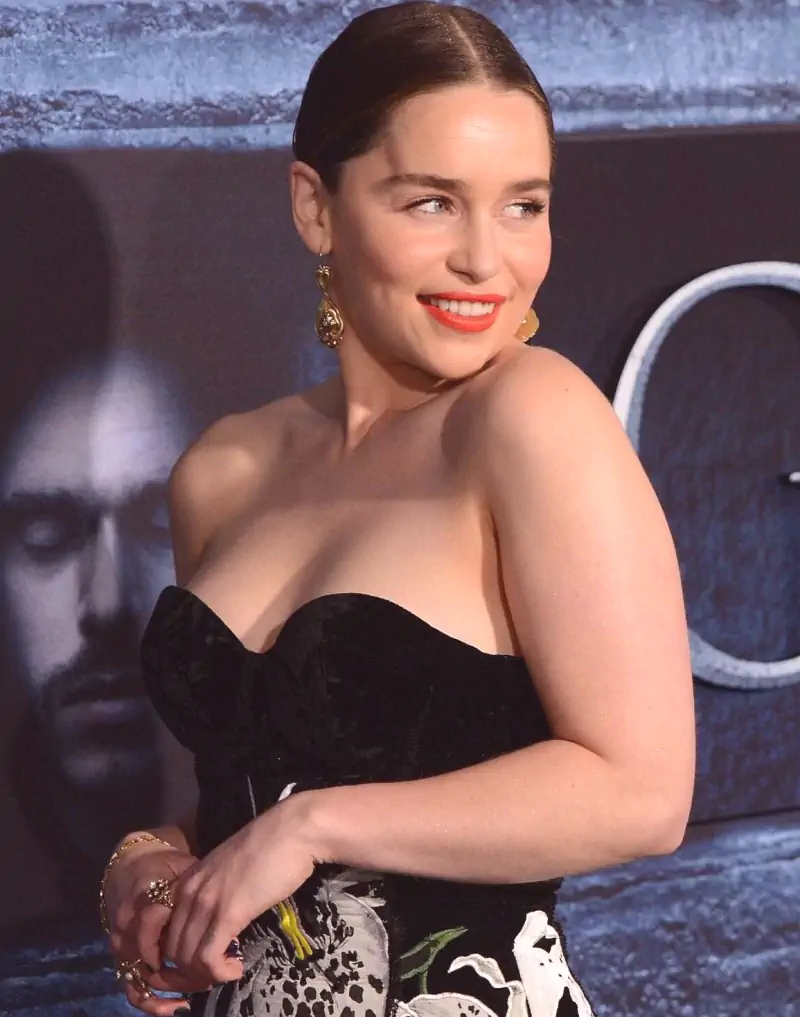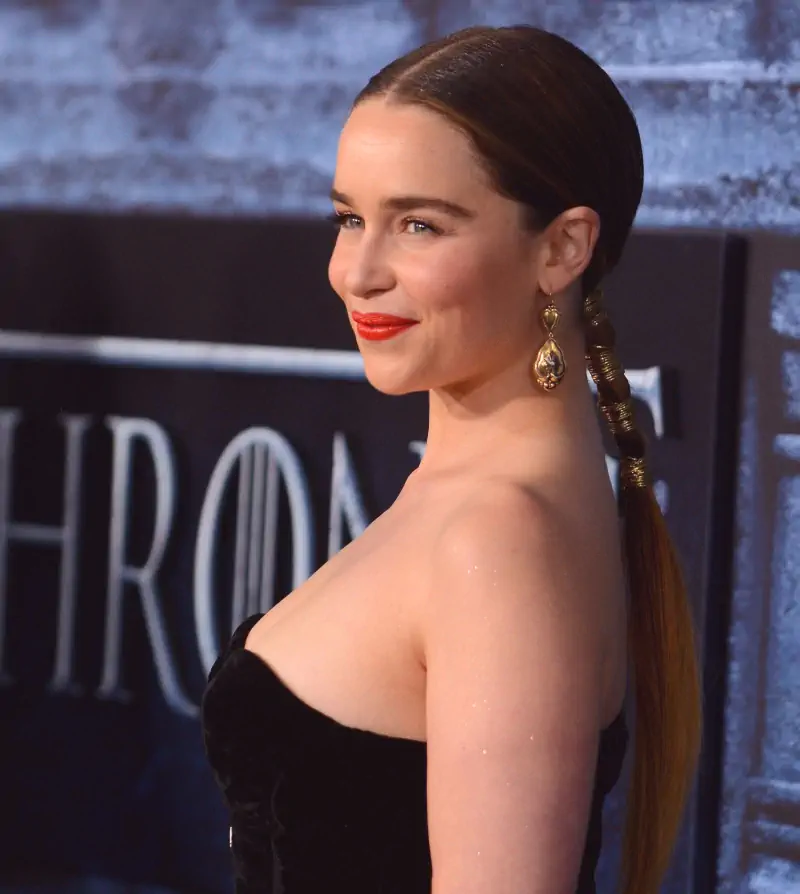 As the above pictures show, Emilia isn't averse to letting the girls out when it comes to dressing up. Sporting fine cleavage and sideboob, with some very nice thigh high splits showing her gorgeous legs for good measure. You can practically see her tits in that blue dress!
Topless and Nude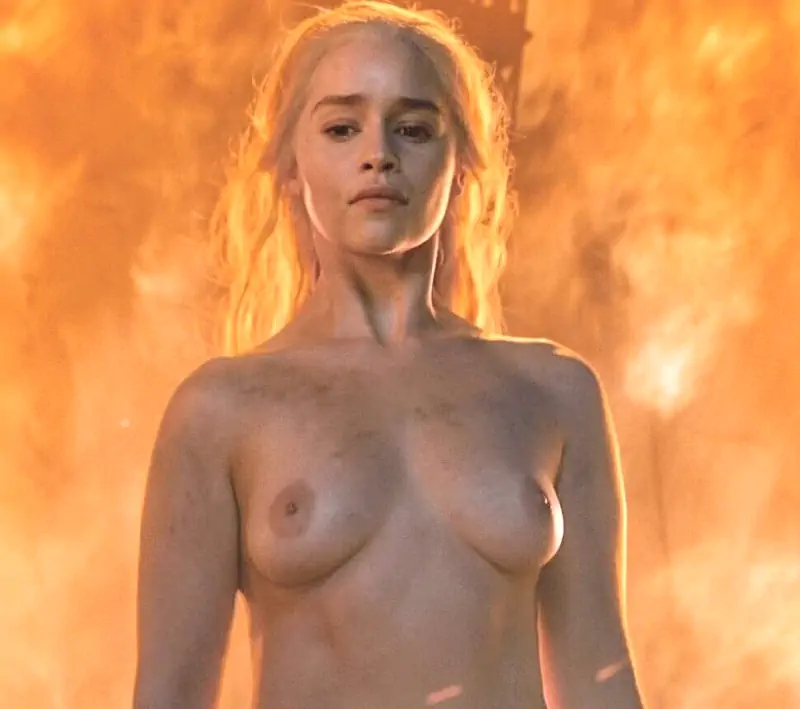 If you've scrolled down to this part you're obviously keen to see Emilia's bare boobs and butt, here they are. We all love a celebrity who loves to disrobe on camera and Emilia fits right in to that category. Clarke gets her chest puppies out aplenty so feast your eyes on her au naturel.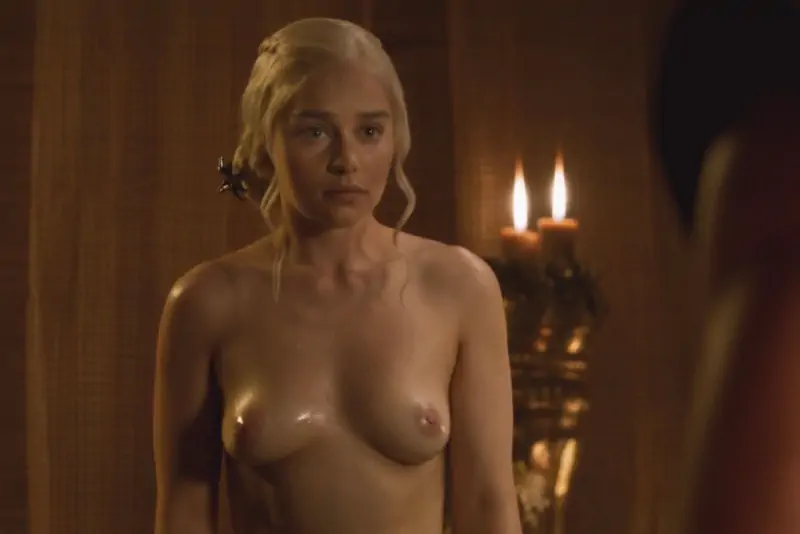 We have to admit to having a bit of a thing for wet shiny breasts so it was boner inducing of Emilia to oblige. This woman is completed unfazed by the amount of casual nudity her part in Game of Thrones called for, what a trouper.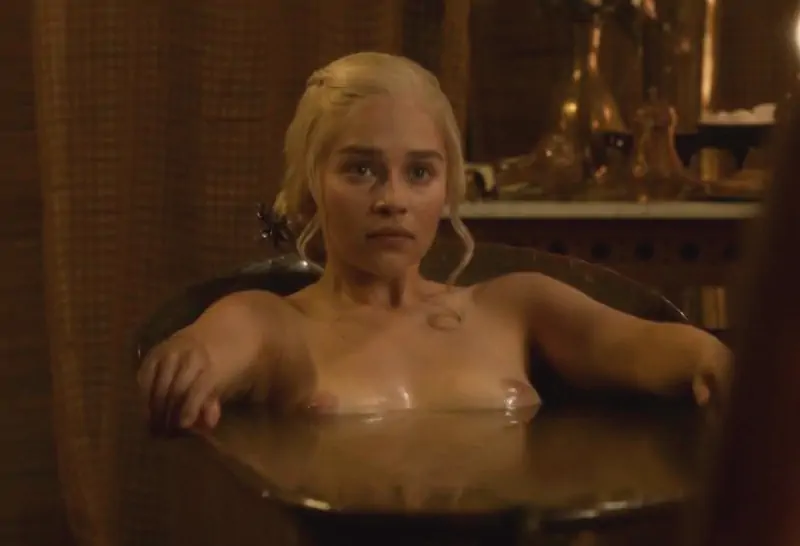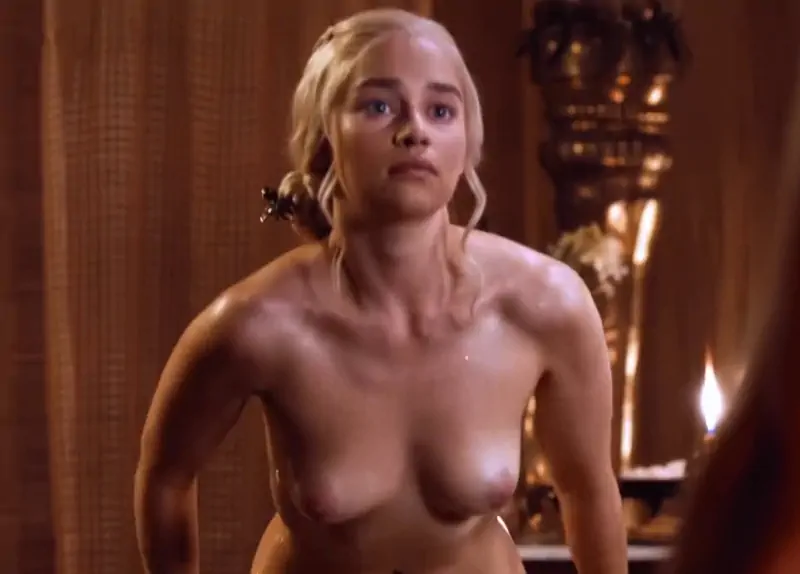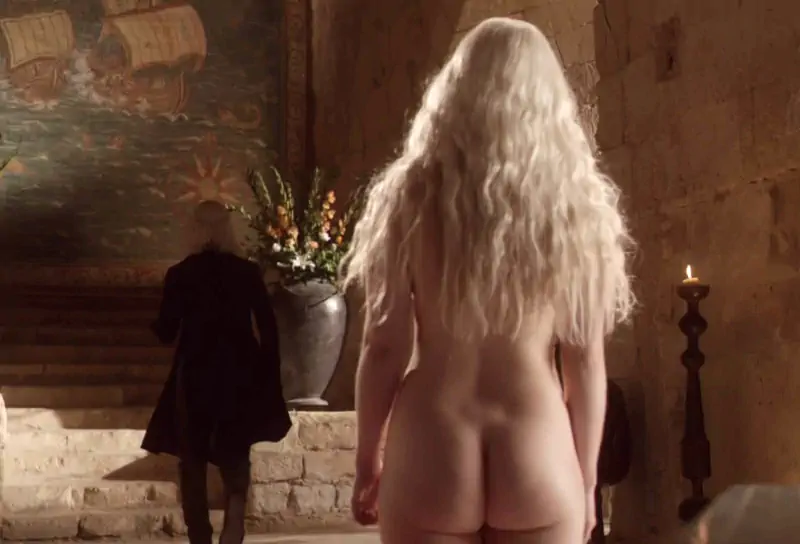 Emilia's peachy ass doesn't go overlooked either. Proud owner of a very squeezable firm derriere, the directors made sure we got to see her nude from behind as well.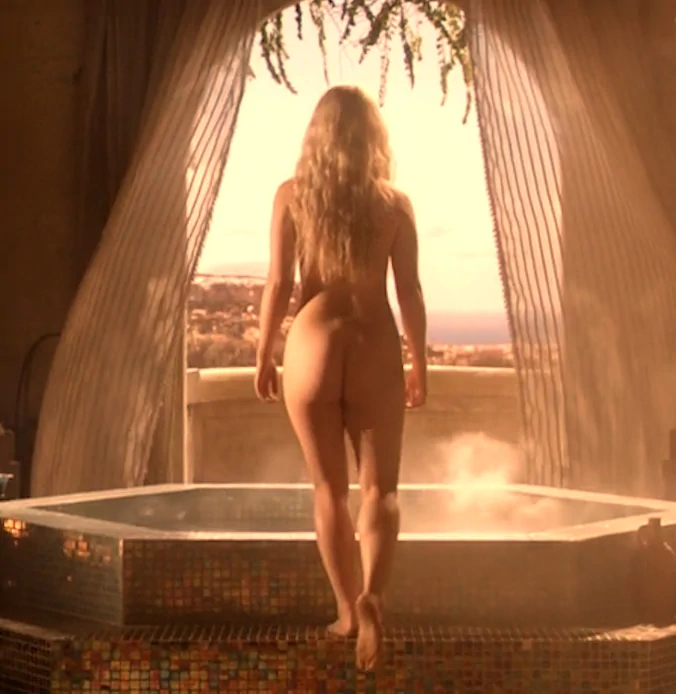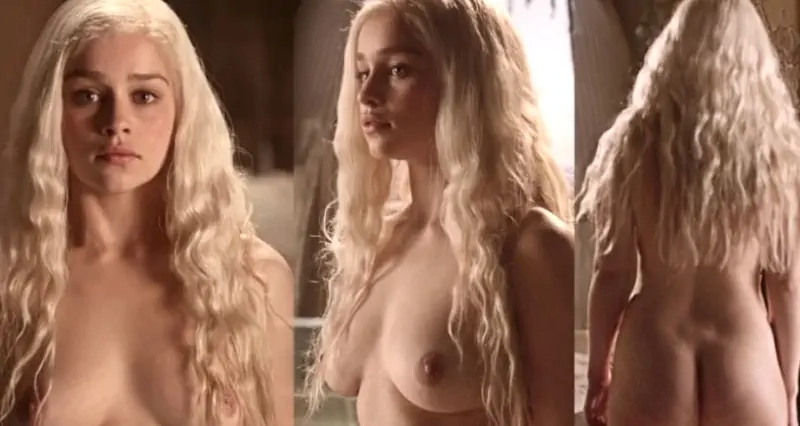 We can't get enough of Emilia Clarke's awesome tits. Here she is letting some guy in the show remove her clothing to reveal her bare chest. Of course by some guy, we mean her brother. And a closer look at those very stiff nipples of hers!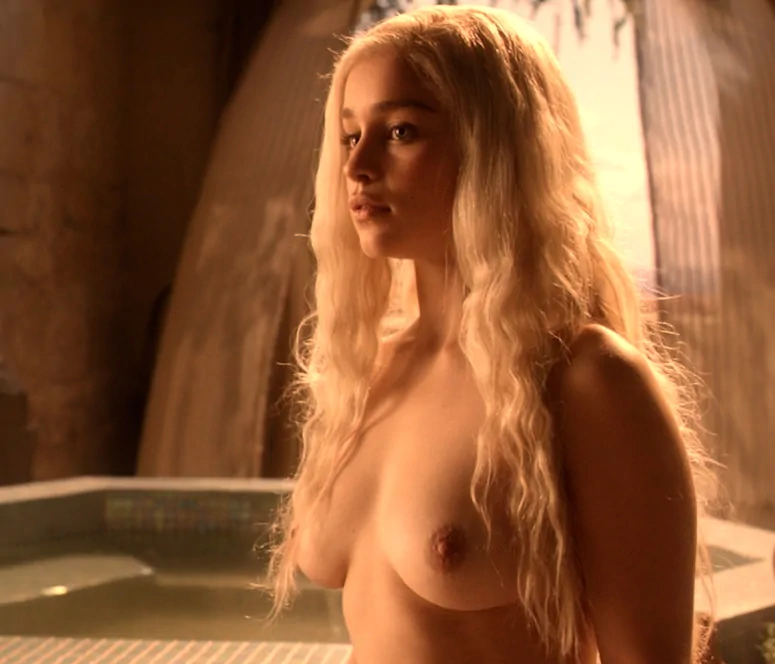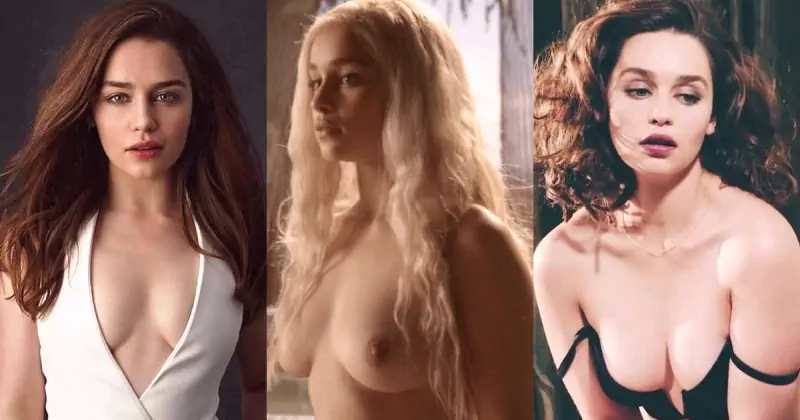 We also get treated to Emilia fully nude, though those sneaky lot had Clarke use a prop to cover her pussy. Those fuckers! Still, the more different angles of Emmy nude the better to appreciate her smoking hot body. You can watch this scene these screenshots came from in the video section below.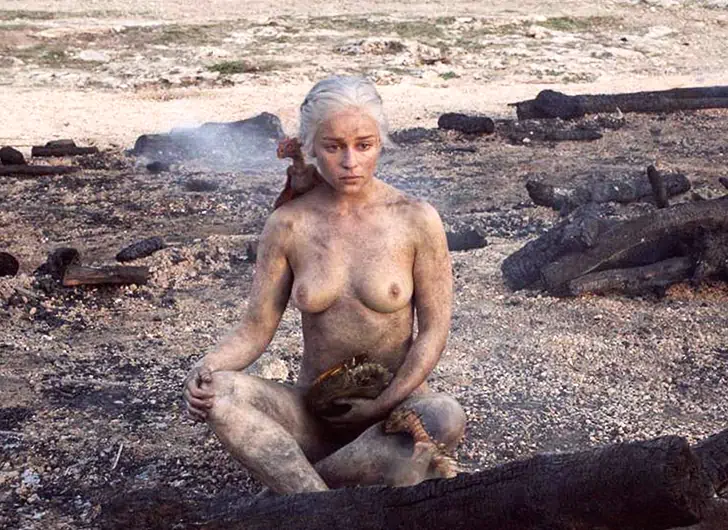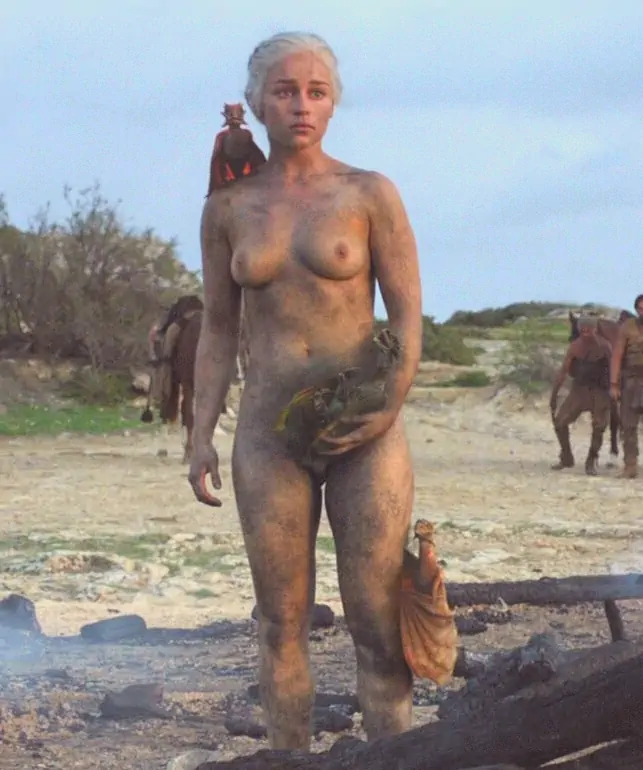 As some of you may already know, Emilia's character got the most nude scenes out of any of the Game of Thrones cast. Cited as a little 'overwhelmed', Clarke nevertheless gamely went along with the many instances of stripping her clothes off she was required to do. She also reportedly used alcohol for some of the scenes as a bit of dutch courage. However she got through the many unclothed moments, she did so and carried her character Daenerys amazingly.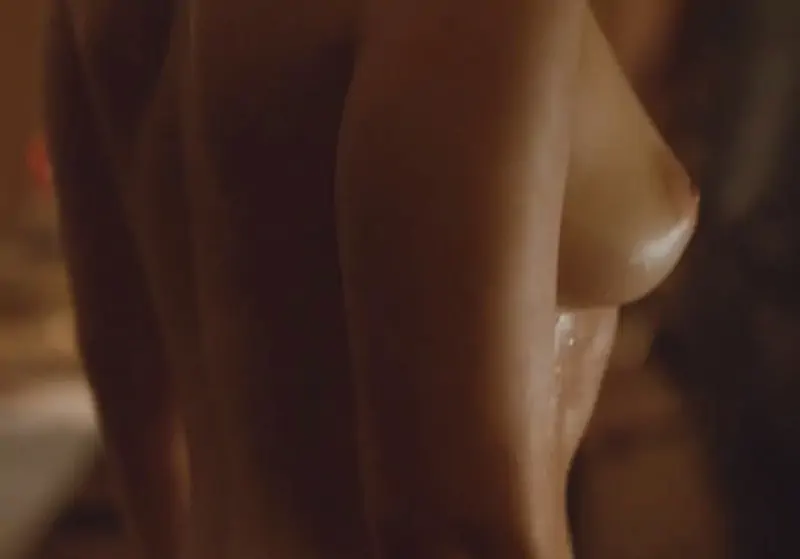 Which is no huge surprise, Emilia is a gifted actress. You may also recognise her from her part in Terminator 5 (Genisys) where she played a young Sarah Connor. She had a couple of nude moments in that movie also, albeit the goodies were carefully hidden. Here's a quick aside while we remind ourselves of those tits of Emilia's as she displays a pretty heaving cleavage for us complete with a nice boob bounce.
Emilia Clarke Nude Videos
Probably her most famous nude scene, Emilia lays in the bathtub then steps out fully nude while chatting away to a warrior dude. How's that for casual nudity. We see her breasts and dripping wet ass in this great naked clip.
Here's the clip we mentioned earlier that also shows a completely nude Emilia, that baby dragon or whatever the hell it is playing a dastardly part in blocking the view of her pussy. Talk about ruin a perfect moment.
Excellent showing from the British born celebrity with plenty of boobs and butt on display. You can catch her everyday pics at her official instagram account, and a list of her TV and films on her official IMDB page. In a kind of reverse warning though, there's no nudity on either of those! There is however, nudity in buckets on the sponsored banner link below!
If you're a fan of the nude fun and frolics that Game of Thrones has in absolute spades, you can check out some fellow actresses who also stripped naked for the show, as well as an ace hypnotic nude video featuring the Game of Thrones cast. Take a peek at Carice van Houten with no clothes on for your next port of call here on CelebMeat!