Queen of celebrity exhibitionists Madonna still loves flashing her nude body around even at the ripe old age of 64. Throwing nudes on instagram isn't just for the young and stupid – even genuine pop icons take part in that game. Madonna had these nude instagram posts deleted. Or possibly, much like her underwear on many occasions, took them down herself. Leaving aside the questionable facial surgery – those tits! On a near pensioner. Seriously gilf vibes going on there, and plenty to aim at for whoever is on the receiving end of Madonna's sexual playtimes these days.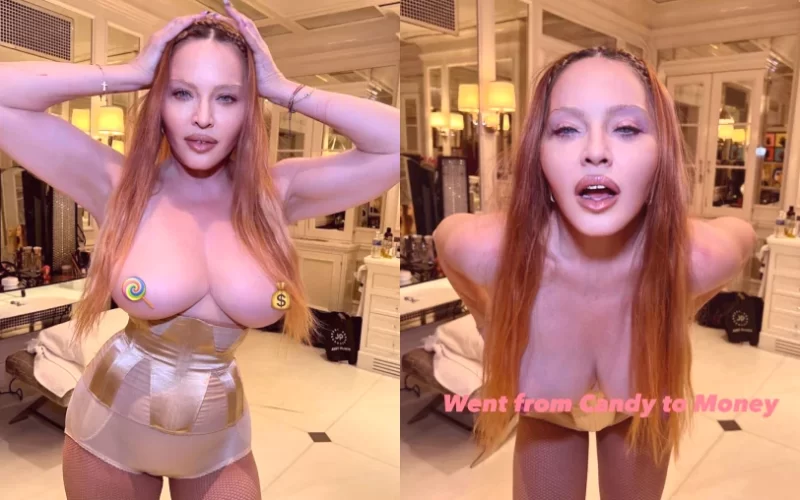 Madonna's Instagram Nudes
Instagram is known for it's strict nudity policy, so strict in fact that they let celebrities post all sorts of nudes that the average user gets banned for. Still, seems Madonna doesn't want to take any chances. Soon after the post went up with these blatantly overt sexual pictures (instagram has some guff about arty versus sexualised) they were gone. Normally celebs throw a hissy fit when their titty pics get taken down. That didn't happen, so our guess is Madonna deleted the nude pics herself. If you manage to take your gaze down slightly, you'll also notice a hint of Madonna's cameltoe. A master of her game, this is almost certainly intentional.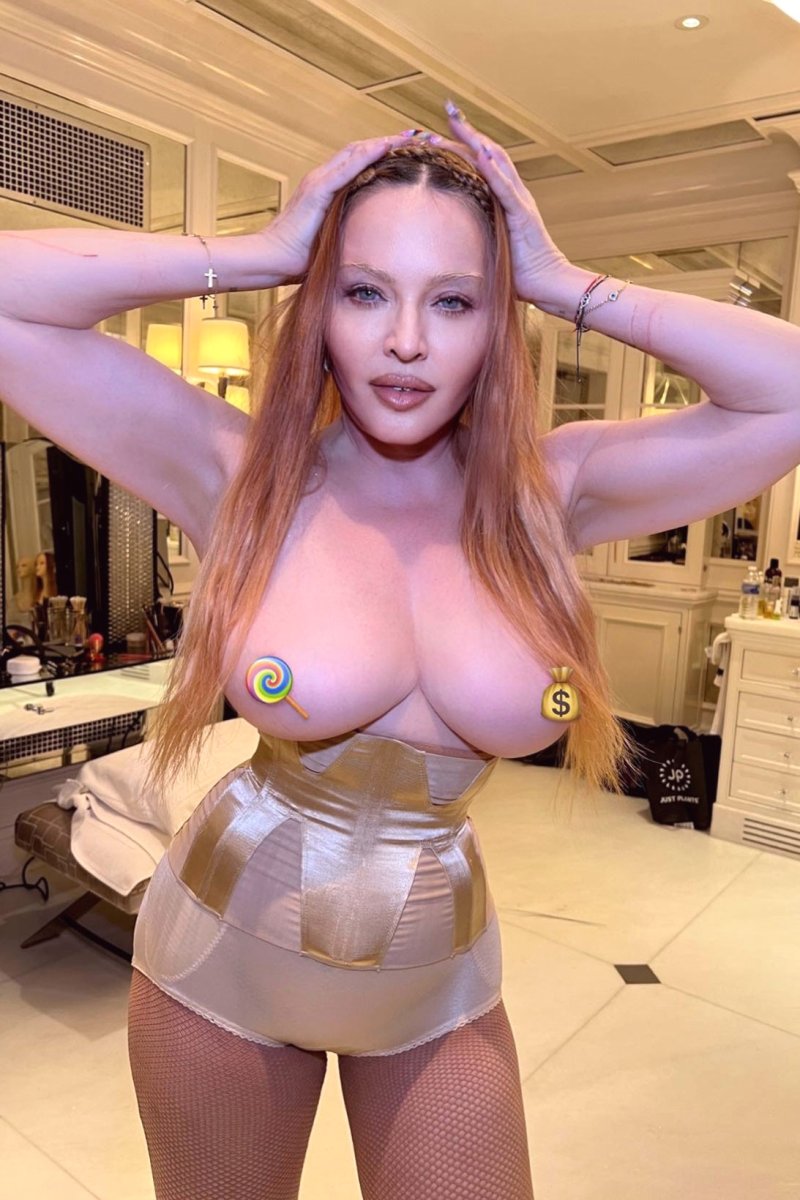 The gossip is that Madonna celebrated 30 years since 'Sex' by posting a bunch of naughty selfies. 'Sex', of course, is the coffee table book full of complete nudes of Madonna. It caused a shitstorm at the time, because it featured Madonna showing her tits and pussy throughout. Yes, moral judgement has been around forever. Why just stick to not buying or looking, when you can stop others from doing so as well. Whether that gossip is correct hasn't been confirmed. But in the same deleted insta post was this gem, where both erect nipples can be seen: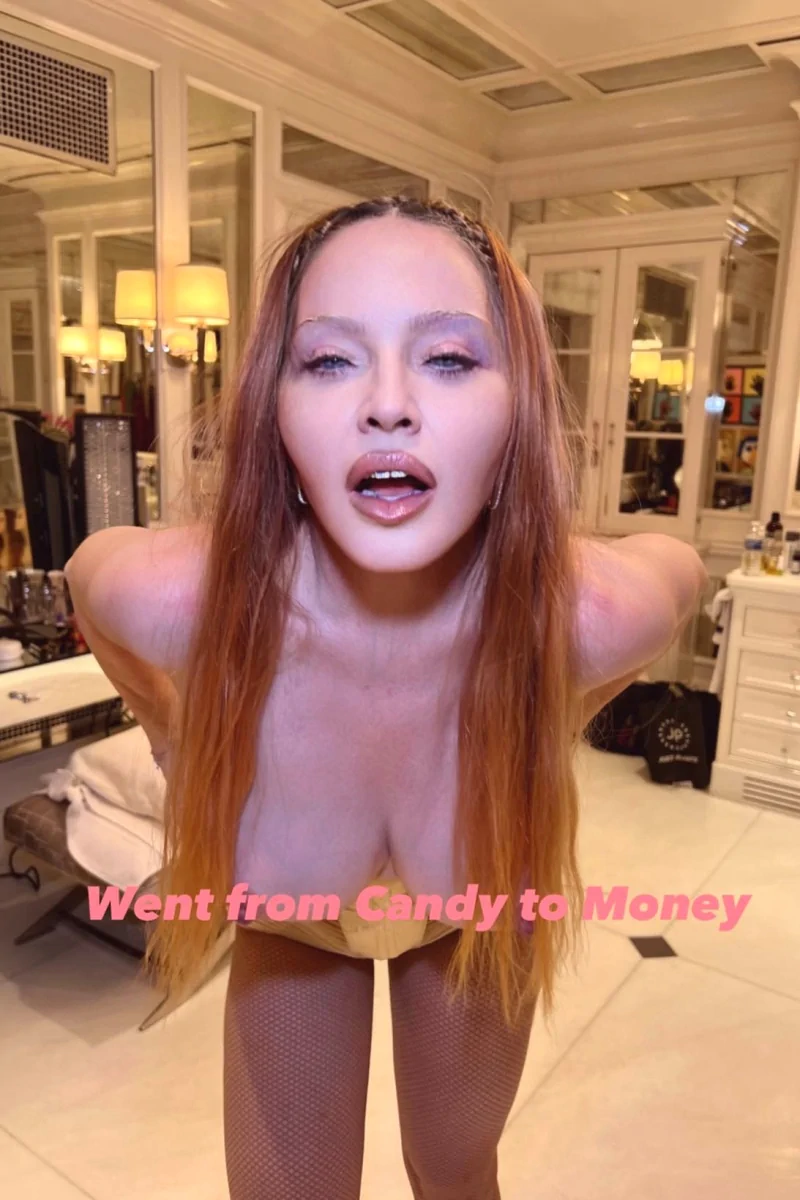 Here's a close up of her nipples, clearly visible between the 'f' and 'r' letters, and just below the 't' (for Tits, of course!).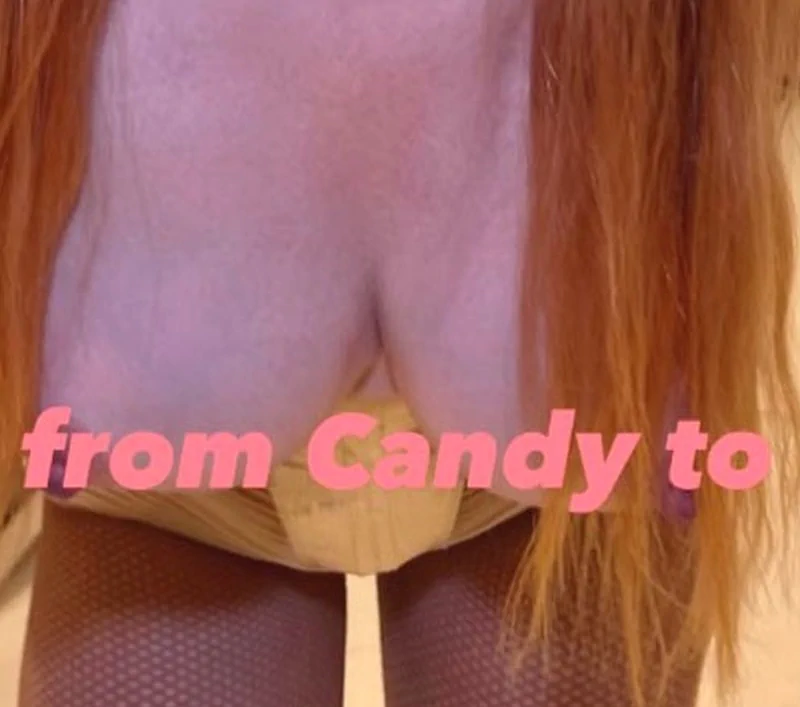 So there we are. Madonna once again proving that being sexy is more about attitude than anything. Though flashing your tits decade after decade never hurts to bump up the sex-symbol-o-meter! One of the most masturbated over celebrities of all time, Madonna still has the wank factor. Zero surprise that the likes of Britney, Kim Kardashian, Miley, Rita Ora and others have followed her lead of stripping naked at every opportunity. Sexual expression is an art in itself. And anyone who says otherwise is an intellectual snob, or a puritan unwilling to let others be themselves. Luckily not all of us are conformists, and try as they might one thing's for sure. They'll never stop strong women from the power to – as Madonna herself told us back in 1989 – Express Yourself!
And about those naughty x-rated nudes from her book Sex – you can see all those in their entirety over here at C-Zoom. Please be warned, it's for over 18s only! 🔞