Hollyoaks, Coronation Street, Emmerdale Farm, and assorted other UK soap stars at their sexiest and nude best! Big tits, spilling cleavages, and full frontal nudity from household names who get their breaks on early evening television. Hang on to your dicks… um hats!
Roxanne Pallett Nude Pussy
We kick off with Roxanne Pallett who didn't waste time fretting about going nude or not when it came to making some Hollywood movies – the former Emmerdale actress was happy to strip naked for Lake Placid, as well as some other films where she showed us all the goods. Nice tits and a shaved pussy, Roxanne doesn't disappoint us nude celebrity fans! The facesitting scene is horny as fuck, oh to be the lucky actor who got a close up of Roxanne Pallett's pussy millimetres from his mouth 😋 Hailing from Carlisle, United Kingdom, her birthday is boxing day, 1982. For the boring stuff you can check Roxanne Pallett on wikipedia, or scroll down for the nude pics of this brunette celeb beauty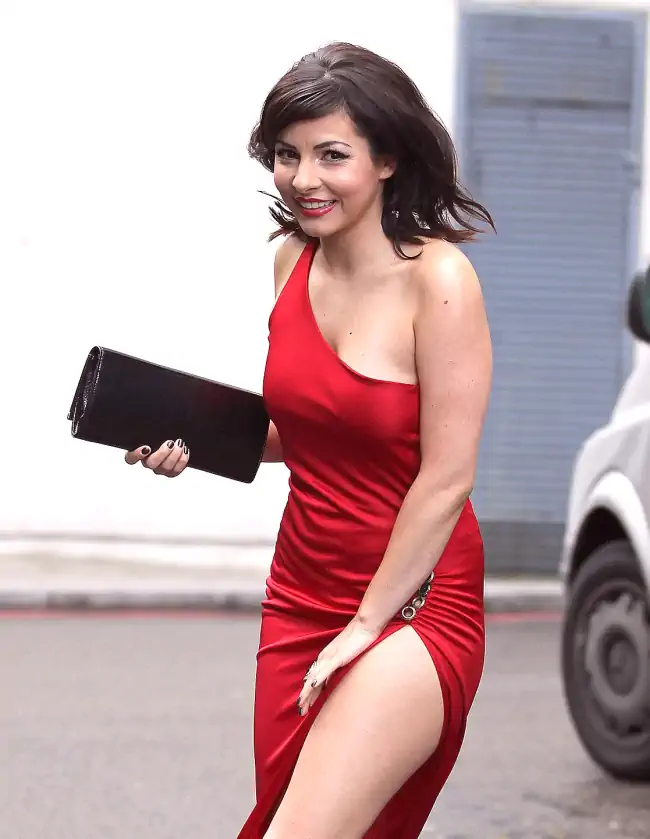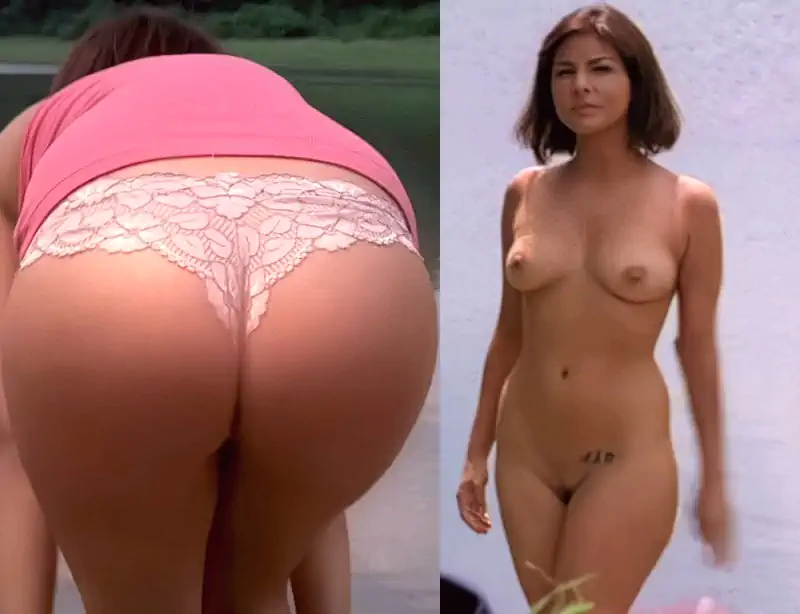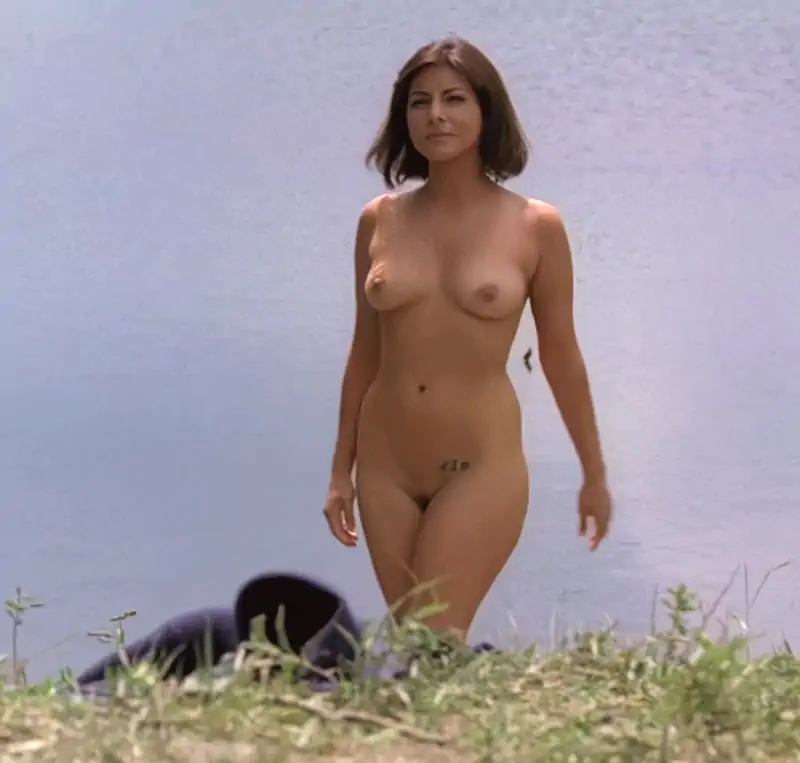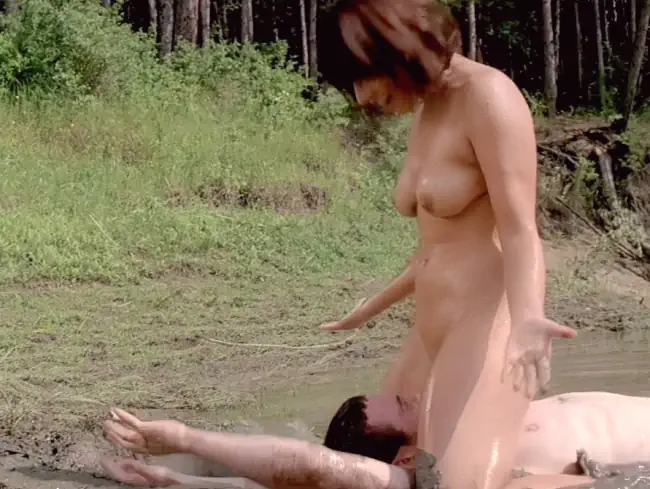 Emma Rigby Naked Shoot
Emma Rigby of Hollyoaks (and previously she was also in another UK soap, called Brookside) fame got pulses racing at an awards ceremony with this eye-popping, cleavage-busting, escaping tits dress as her boobs seemingly wanted to break out and make a run for it. How those chest puppies stayed inside god only knows. She played Alice, in Once Upon a Time in Wonderland which is basically a rehash of Alice in Wonderland of course.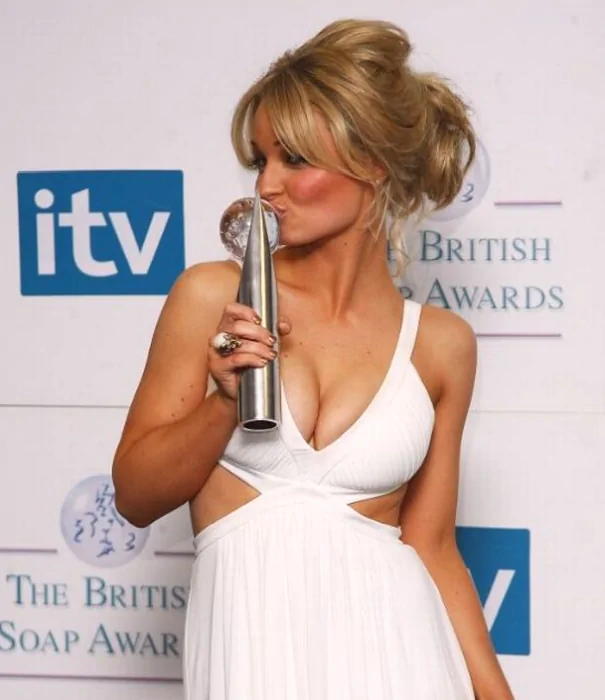 Emma also whipped out her breasts in 'Hollywood Dirt' for a nude sex scene: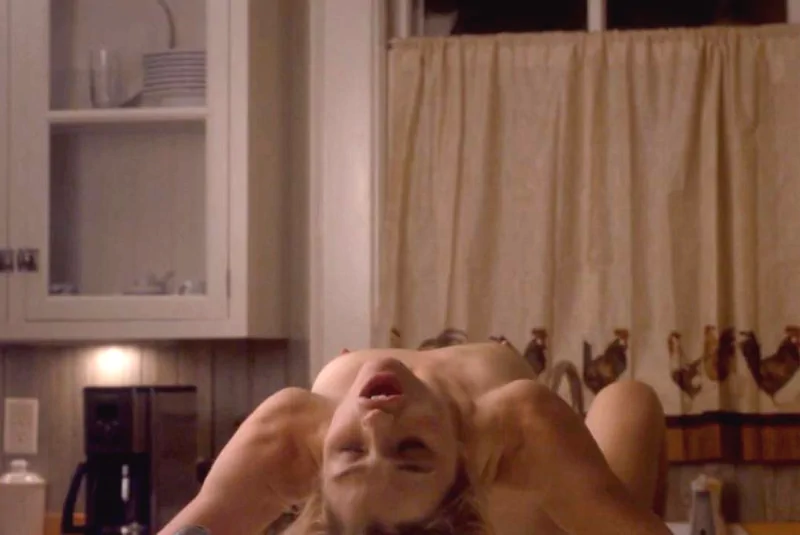 Unsurprisingly, Ms Rigby has done a bunch of modeling work during her career, which is where the nude pic below comes from.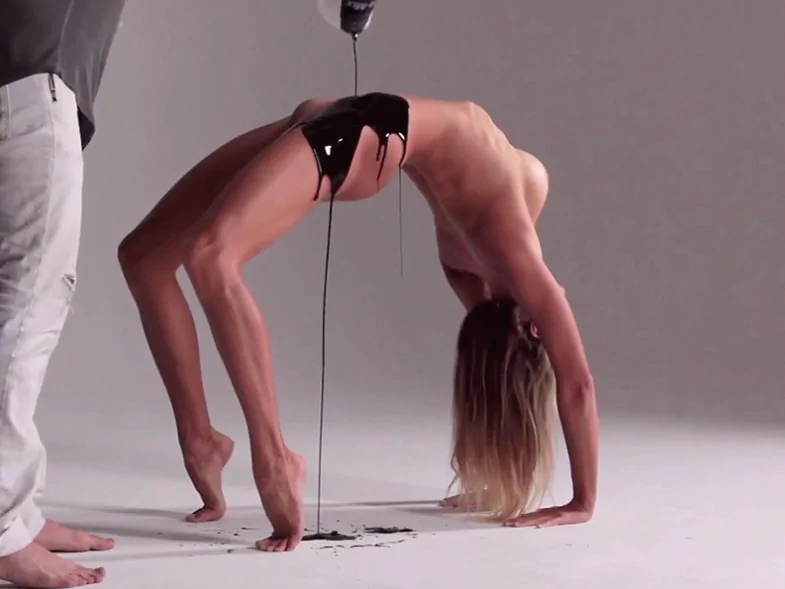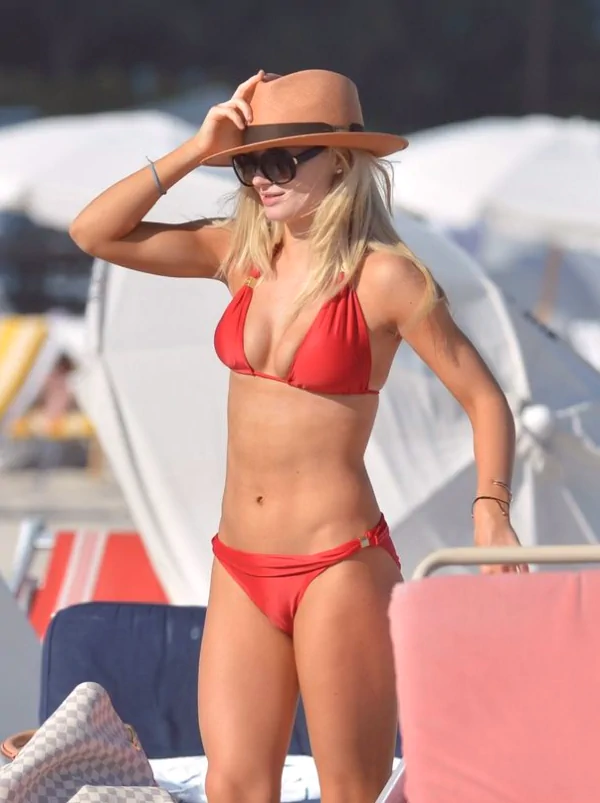 Her wikipedia page is here but far more importantly, Emma also had a TON of her nude selfies leaked online

Jennifer Ellison Topless Calendar
Jennifer Ellison had quite a stint as the UK's sexy soap star of choice while playing Emily Shadwick in Brookside, and was a firm feature in lad's mags a few years back. With a great set of tits, nice body, and a girl next door persona, she was the subject of many a wank even if you'd never watched her TV appearances, or caught her in films such as Phantom of the Opera, or listened to her music during her singing career, and so on – she was in the public eye a boatload, and did many a racy photoshoot during that time. If you are interested in her bio stuff you can see that at Jennifer's wikipedia entry, or if you are here for the celebrity tits and ass, carry on and have a look at a few of Jennifer Ellison's sexiest pictures:
This is the back of her calendar a few years ago showing her peachy ass and her big tits in some sideboob action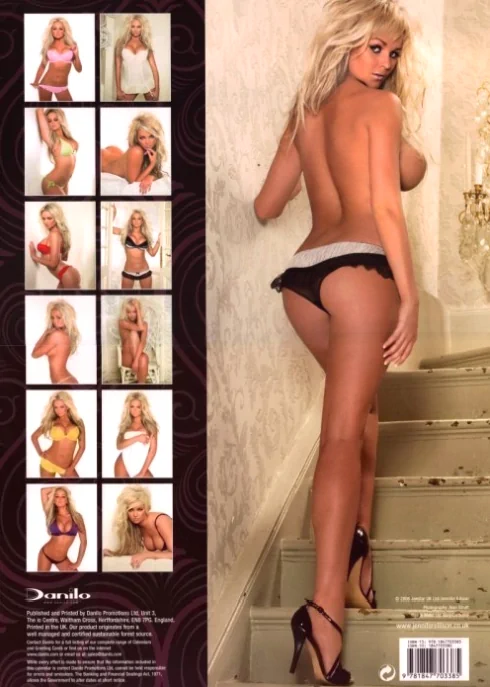 A nice downblouse cleavage pose of Jen's mighty baps – quite the target for a bit of jizz darts 😜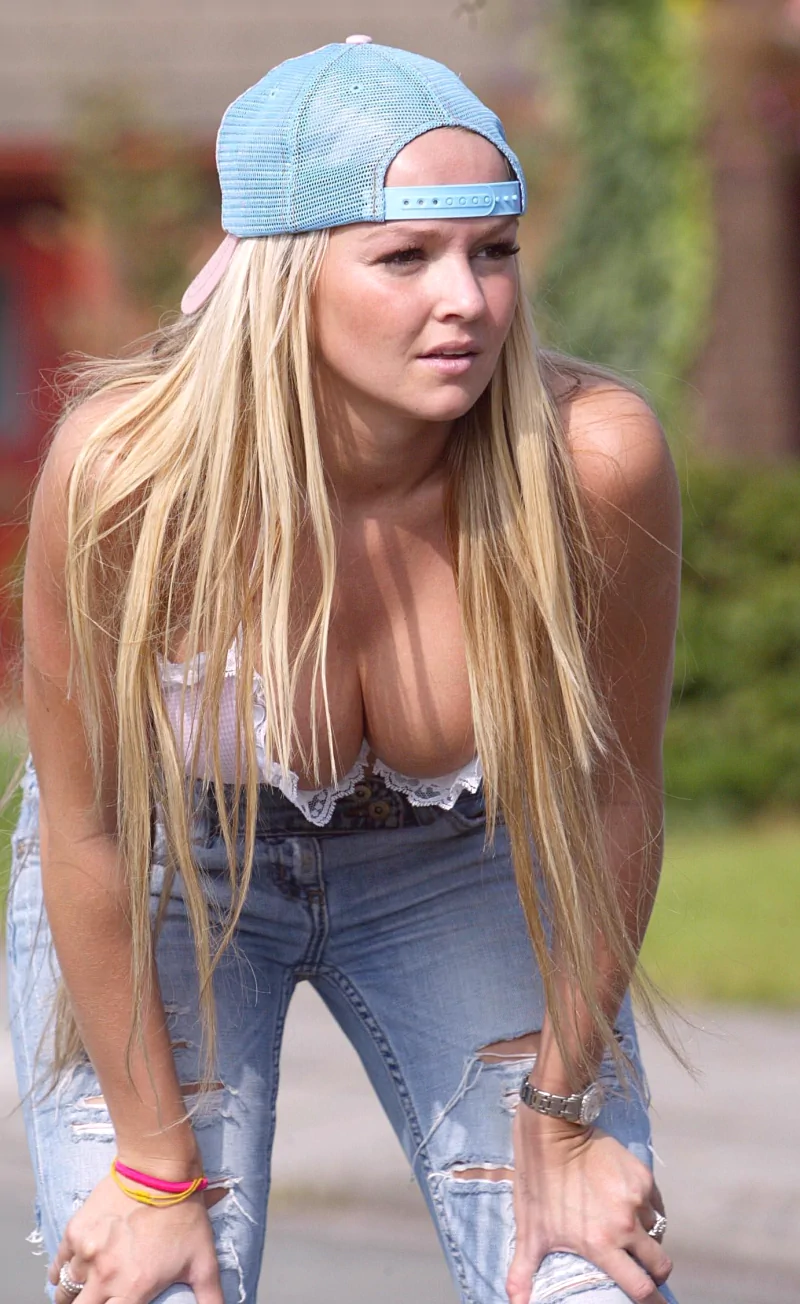 The infamous I'm just stretching on the beach in my bikini oh are there photographers here taking pictures of me well I never would have thought that in a million years and what a shame my nipples just so happen to be showing through my swimsuit pose so loved by celebs the world over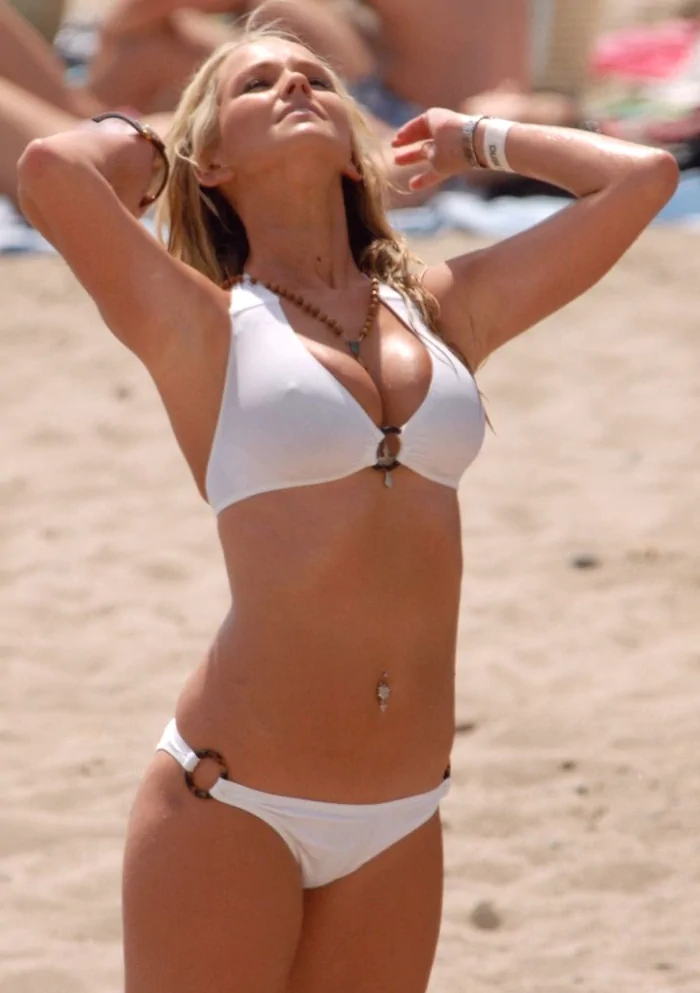 Helen Flanagan Full Frontal
Next up is ditzy big tits blonde Helen Flanagan. This chick has the body of a Goddess, unfortunately, and we say this with much love – she isn't what you could call a deep thinker. No matter, everyone has their weak and strong points, and there's no doubt about Helen's strongest ones… those 32E whoppers that yes, she has shown us you'll be pleased to see below. The face of some character on Coronation Street, or Corrie as it's affectionely known by many in the UK, Helen has boasted that her tits are the best she has ever seen. It's pretty hard to argue with her actually.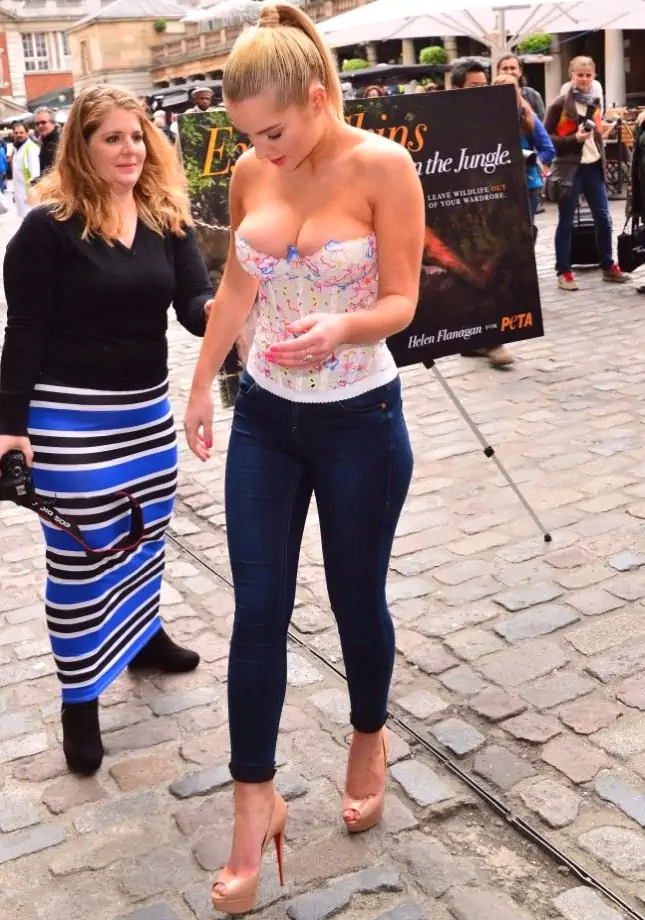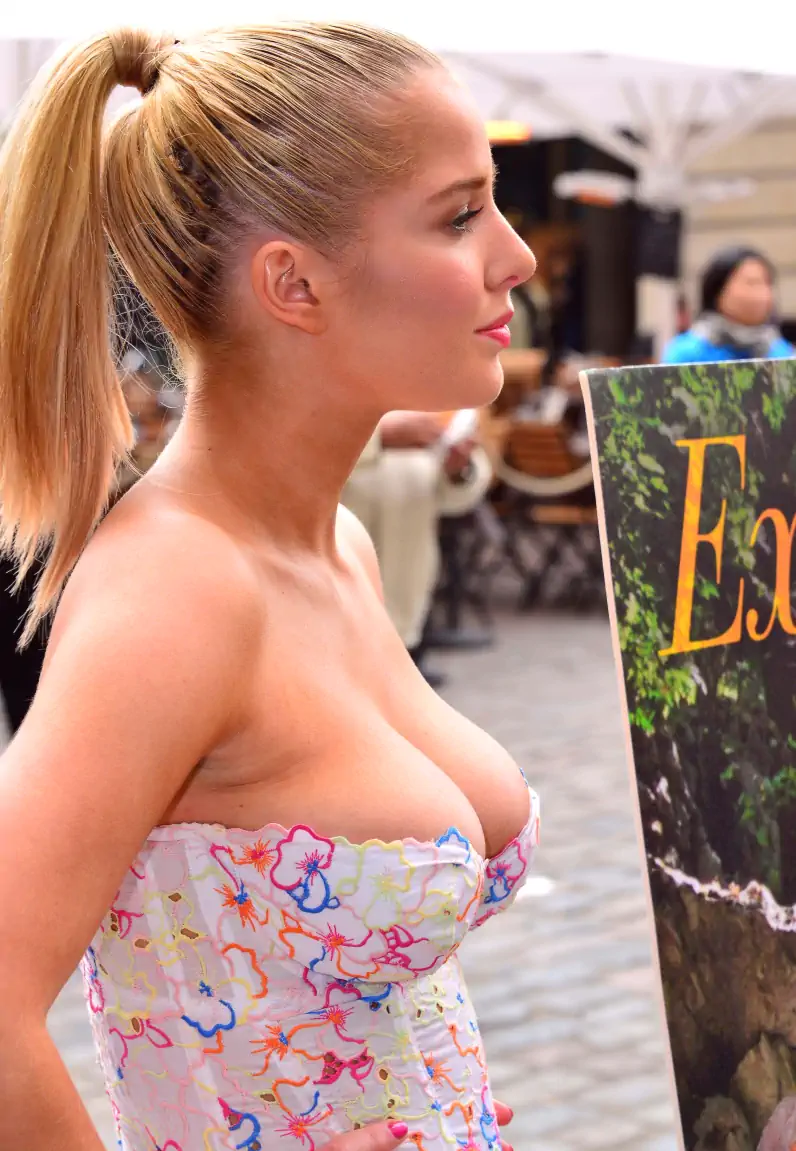 Helen also did a topless shoot for The Sun newspaper, which used to feature a different woman each day with their tits out until some sour-faced busybody cunts in government took umbrage that people might actually be enjoying looking at good looking women showing their breasts, and a public outrage was created, in which a loud, vocal few successfully campaigned to have bare boobs banned in the newspaper. Fuck knows what level of anxiety these shitheads have had since the internet came about. Here's the Helen Flanagan topless page 3 picture: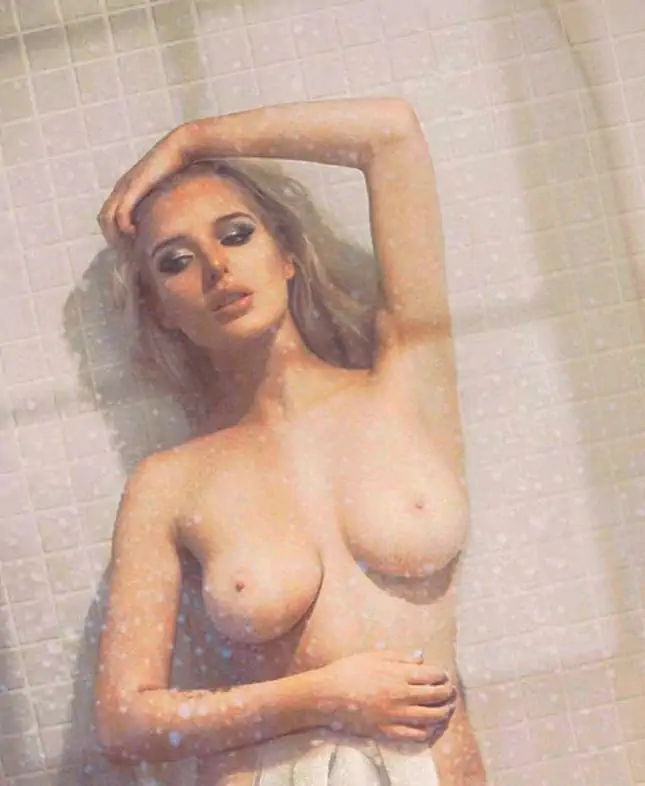 What then happened was the uncensored nude Helen Flanagan pictures surfaced, showing Helen revealing her pussy. Check out the thigh gap and pussy lips – beautiful!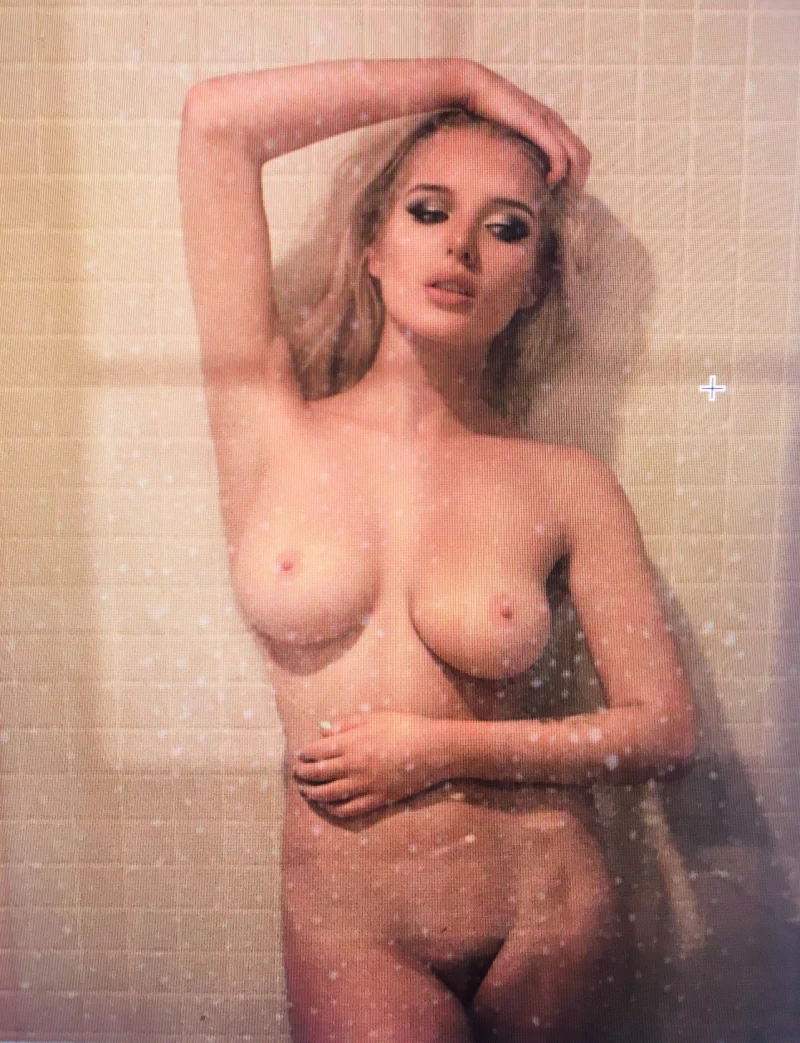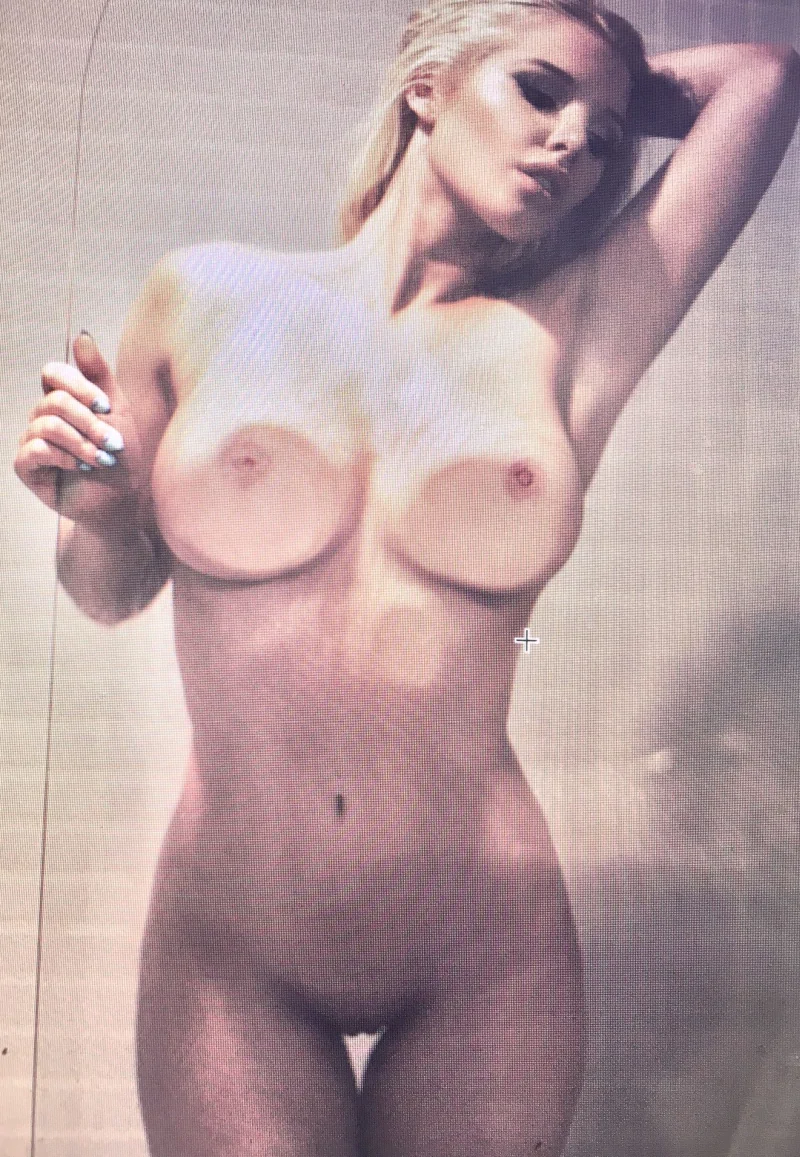 With form like that, Helen is probably our favorite sexy soap star of all time as it stands!

Catherine Tyldesley Big Tits Pokies
More Corrie corkers in the shape of Big tits actress Catherine Tyldesley, this 37 year old northern milf has a load of yawn inducing biography nonsense over on the wikipedia entry for her but the important thing to know is she has a set of 36DD bazookas packed away for a pair of weapons. Being a northern milf, she also isn't shy about displaying them, nor does she seem to give a fuck who has a look. Old school women – thank the lord for Generation X!
These delightful pics of her knockers were beamed out on evening time UK television, and all of a sudden men were interested in what was going on in their wives' must-see tv proggy. A nice view while you are sat there eating your dinner: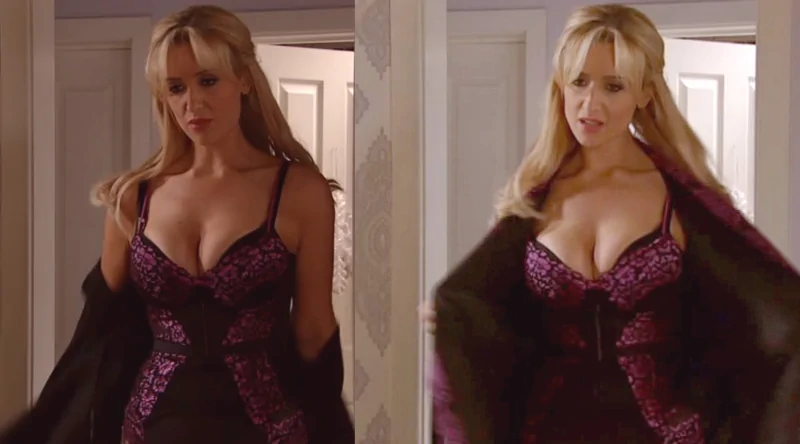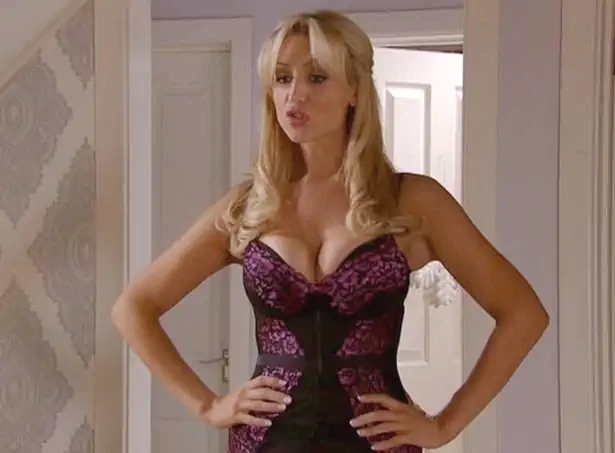 A bit of a Kaley Cuoco look going on in the above picture, another fine sexy celebrity. Catherine has also appeared in other soap operas such as Holby City, Emmerdale Farm, and has even showed up in tits and nudity bonanza 'Shameless'. Ever the blushing non-attention seeking celeb like so many of her peers, Cath also enjoys posting selfies that show off her erect nipple pokies under the guise of 'hi guys it's me near a gym somewhere'. Like we said – old school women love a bit of sexual sneakery.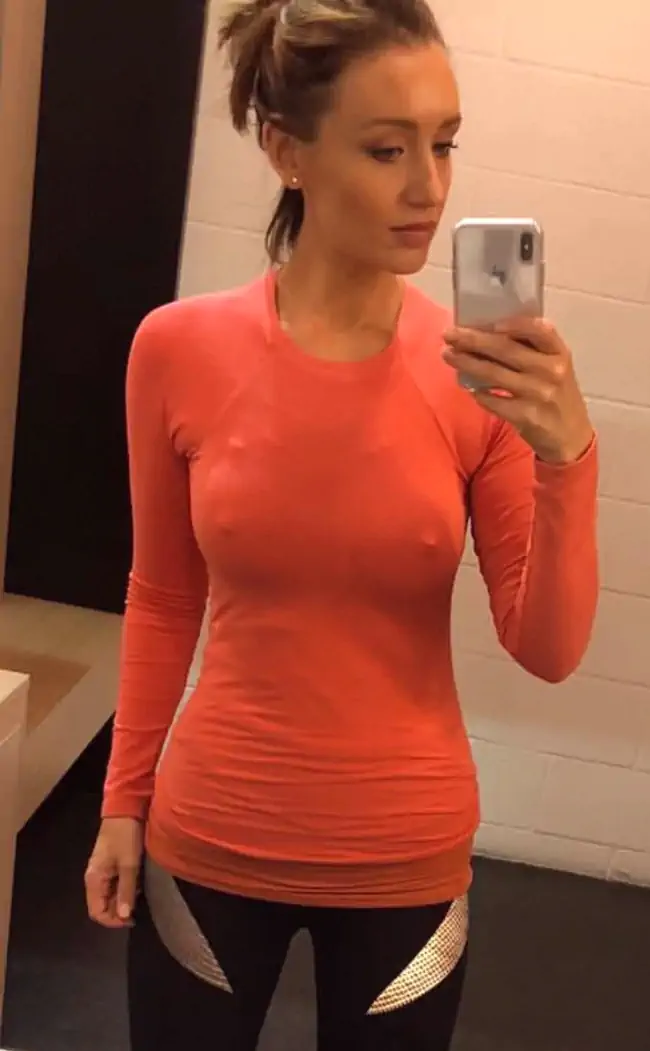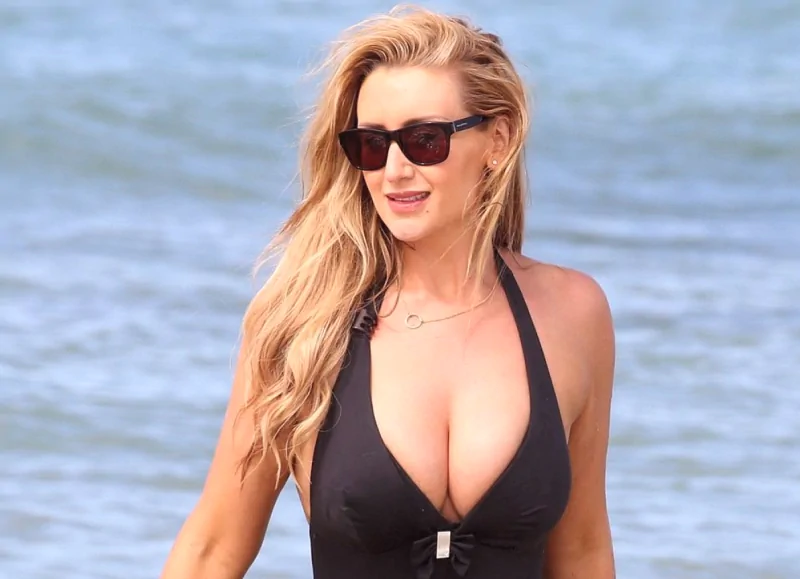 And yes, there ARE leaked nudes of Catherine and you can see them all at this link 🤩

Beth Morgan Big Tits Exposed
And on to Beth Morgan who is an actress/model, and played the part of a stripper in a lapdancing club in Coronation Street. Sporting size F all natural boobs, there isn't much to say about Beth other than check out her tits: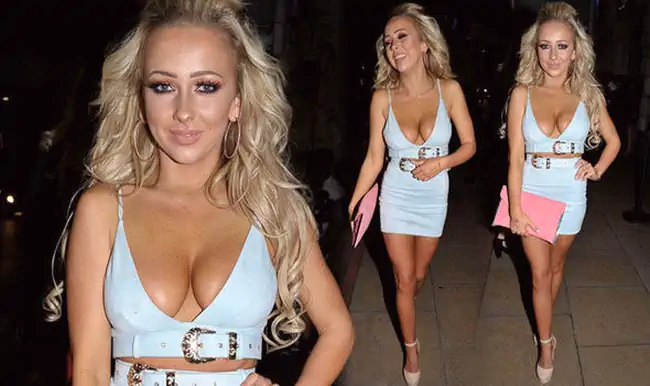 Rumor has it UK northern girls don't feel the cold, and with a dress as low cut and revealing as the example above, it's a good job too!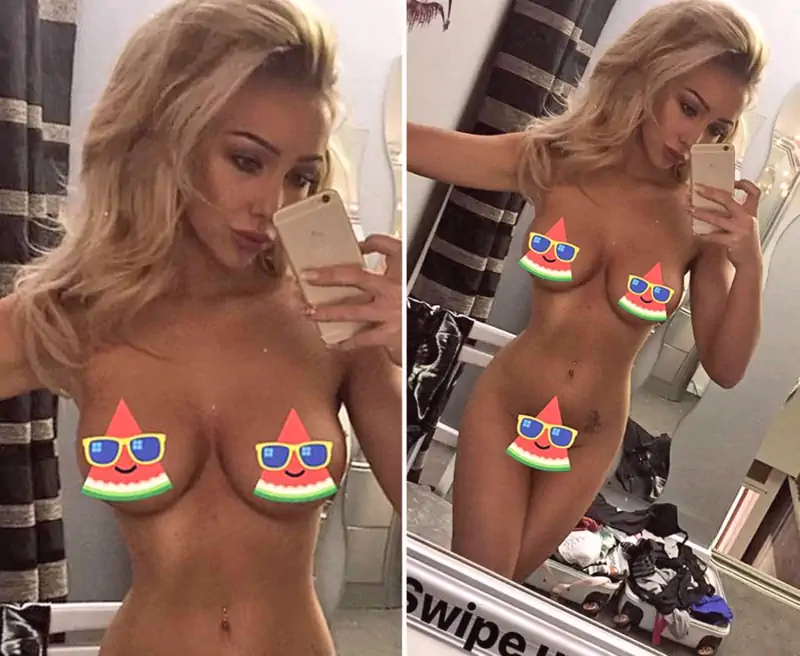 That's one from Beth's instagram account where she posts a bunch of bikini type pics showing off her big natural tits, which we can't help but 'remind' you of them with the following images of her on vacation in and out of a tiny bikini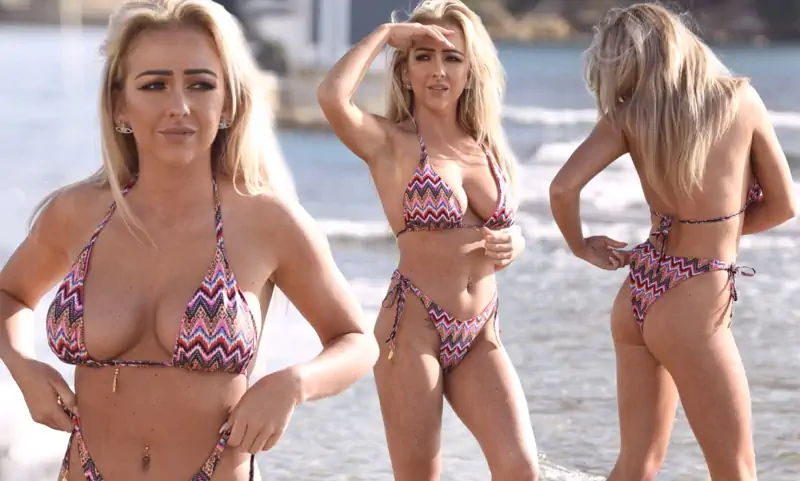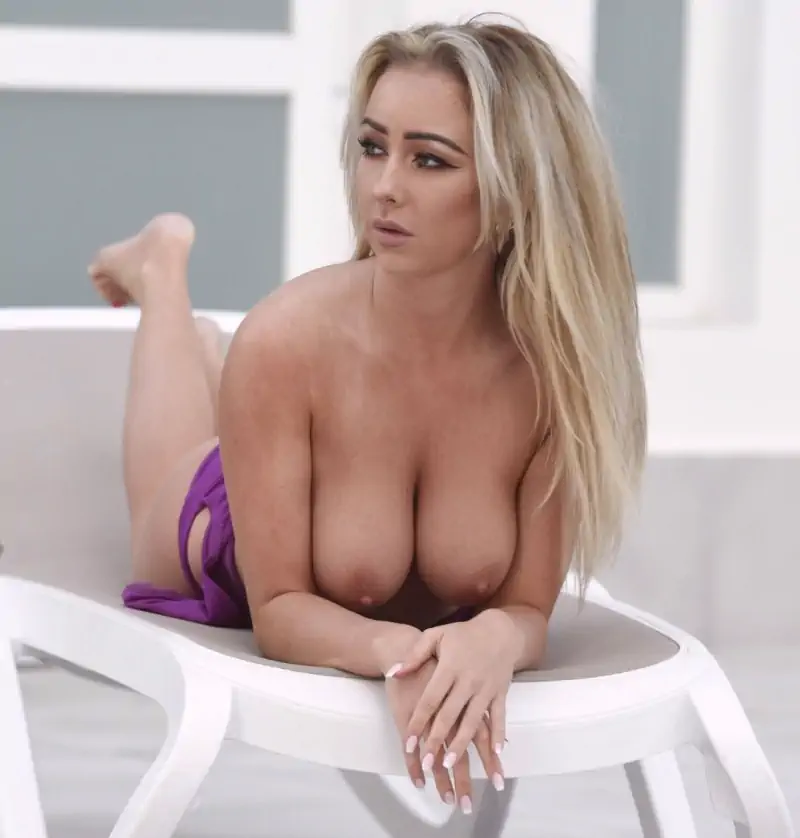 She has a truckload of nudes and is well worth the research time involved in looking at them all:

Gemma Atkinson Gigantic Tits
Back to Hollyoaks we go for Gemma Atkinson, who featured in Casualty and The Bill, another 2 long-running British series, but Hollyoaks is where she made her name, in no small part due to her good looks, amazing figure, and big boobs. Oh, and her acting prowess. You can read up on more of Gemma on her wikipedia page but how they leave out her 34E bra size we don't know. We'll start off with a candid of her on vacation giving us an eyeful and a half of her big tits almost spilling out of her bikini, which is about as close to a nippleslip as you can get without it actually being a nipple slip…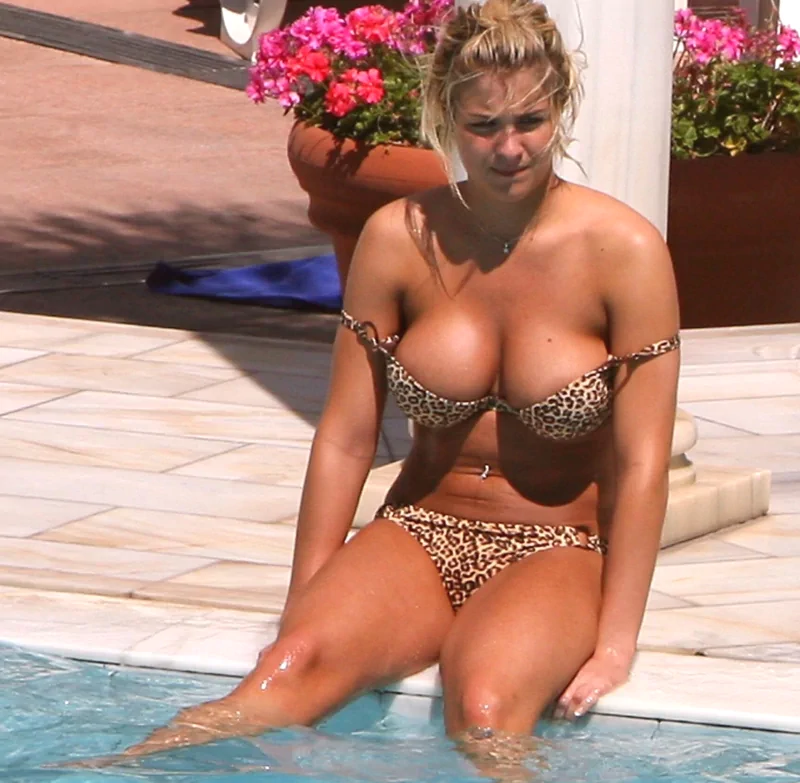 Like a lot of the other sexy soap stars in the UK, Gemma was a go-to for lad's mags, and here we see her with a profound thought. Btw, in England, chips = fries, so it's not as bizarre as it might seem at first!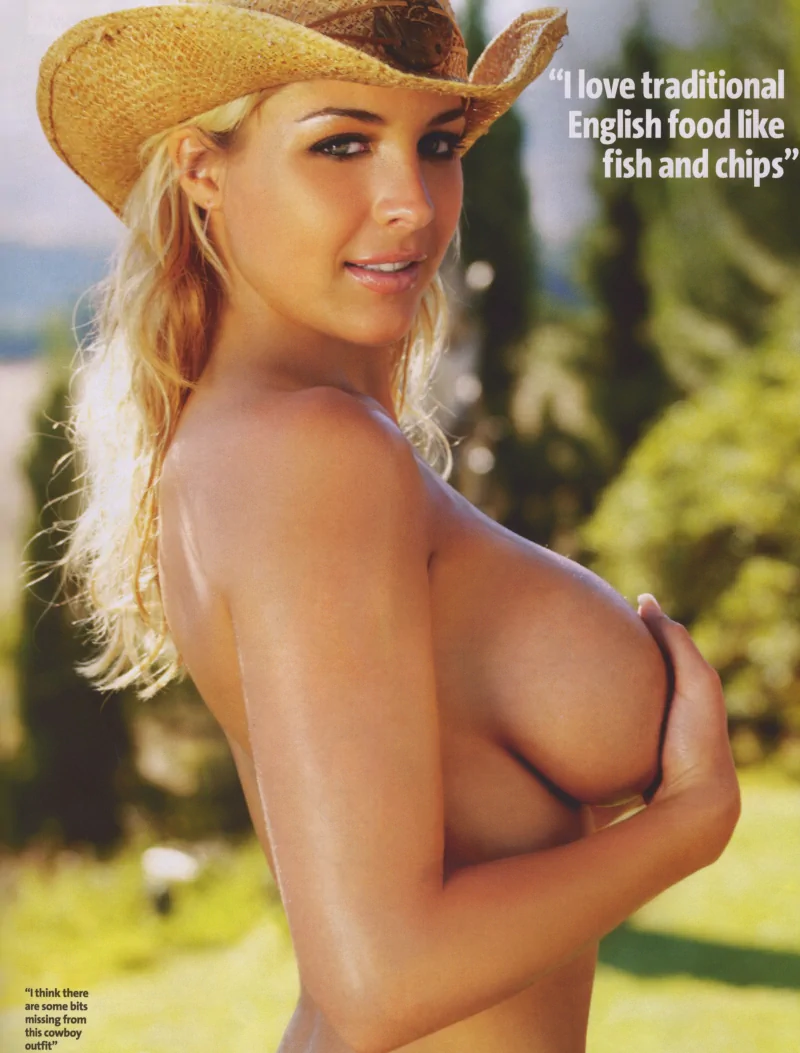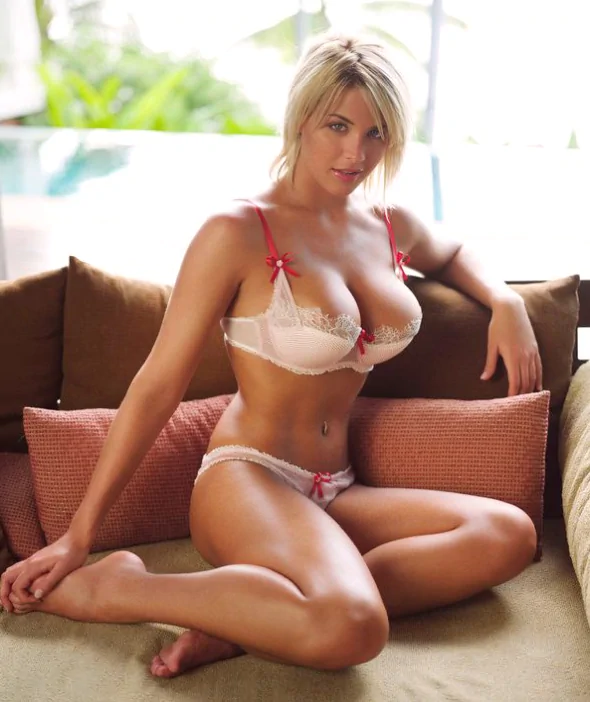 Gemma Atkinson bra-bursting cleavage ftw! Oh, and talk about close to an all-out bood display of a tit slip, we had to make do with a standard downblouse on this awards night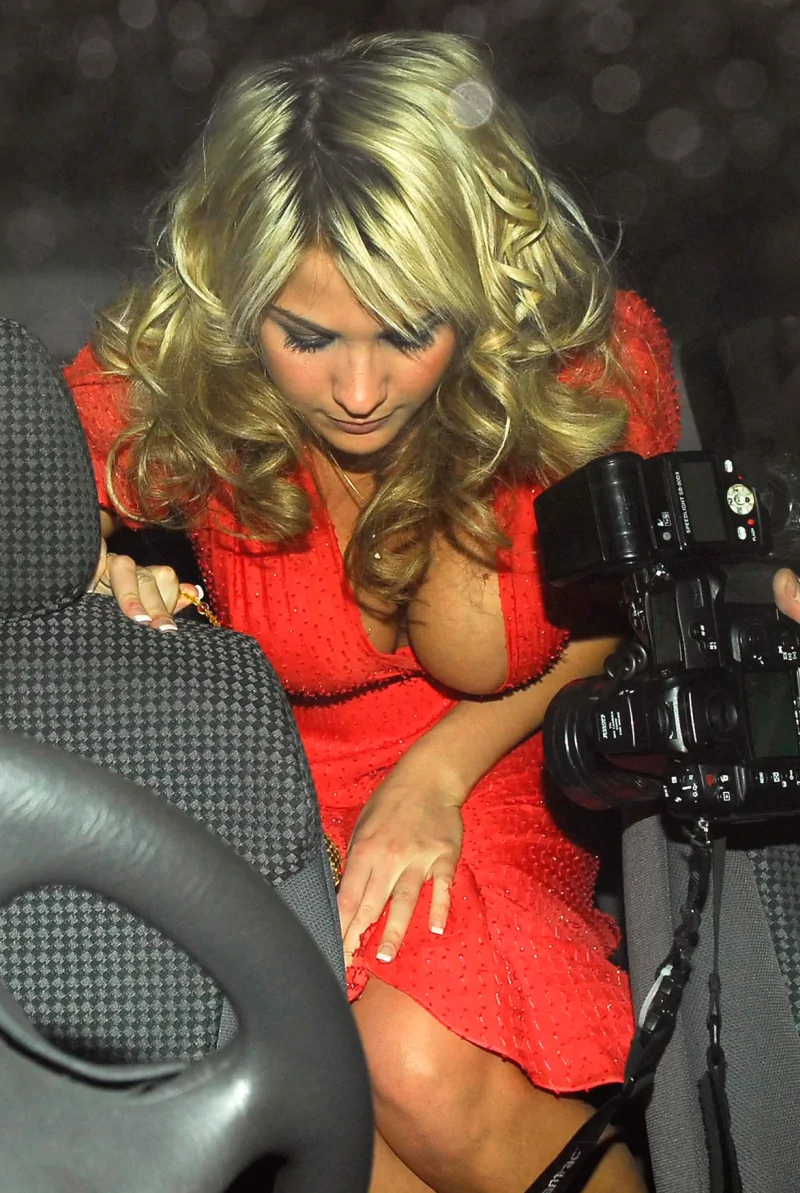 This cheeky babe reveals a lot more in her nude leaked photos which you can see by clicking the link below 😜

Gemma Merna Pokies and Underboob
Let me introduce you to Gemma Merna (gemma's wikipedia bio & filmography), the delightful 34E cup actress of Hollyoaks and – well, that's pretty much it actually. Going on to appear in reality shows, Gemma nevertheless was a huge tits, I mean huge hit while appearing in the soap, and while we've never actually seen any of her acting, we take a keen interest in Gemma's many instances of flashing the flesh, so here are a few examples, and more of this woman and her gigabtic tits can be found on her page here: Gemma Merna Nude & Sexy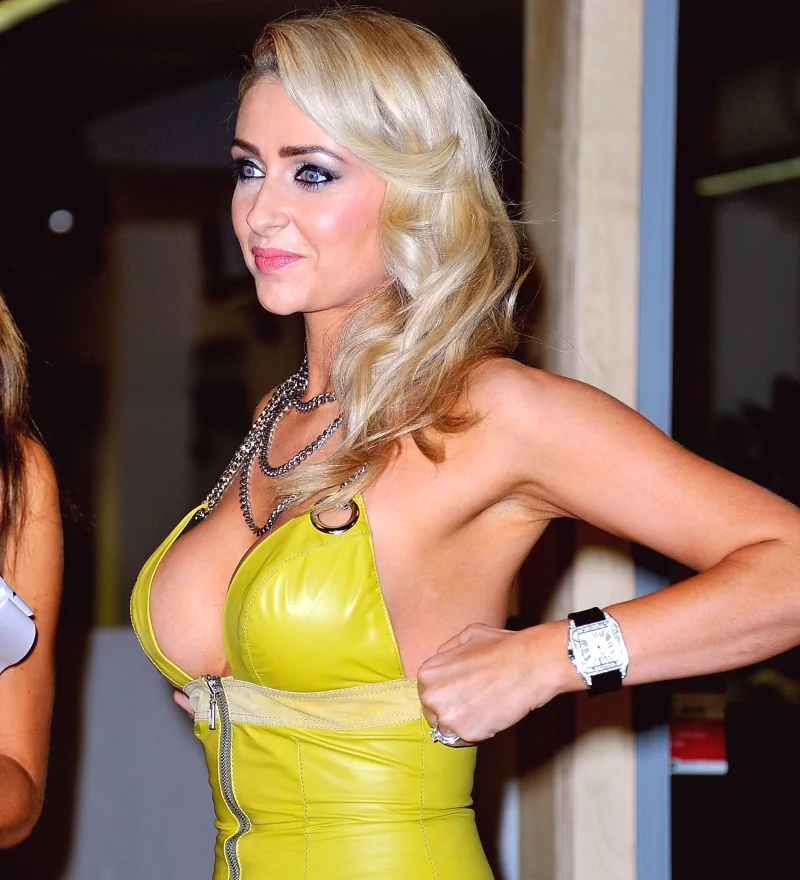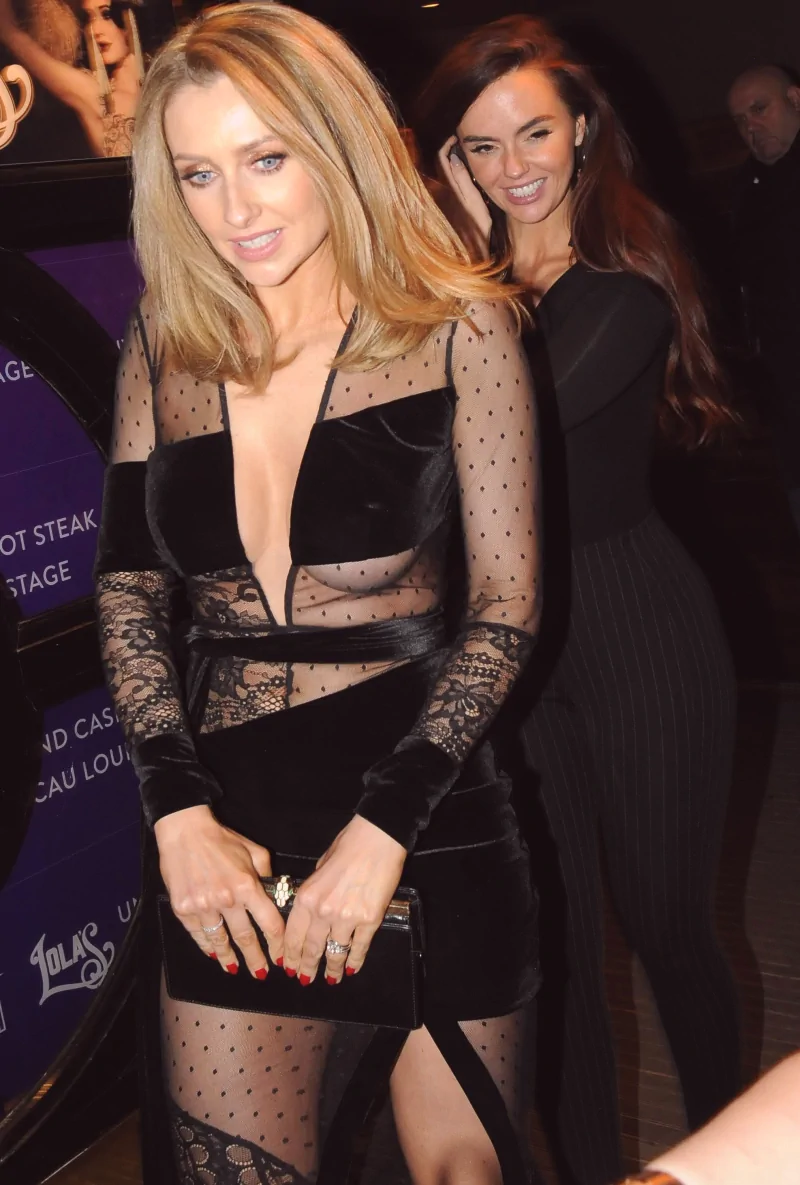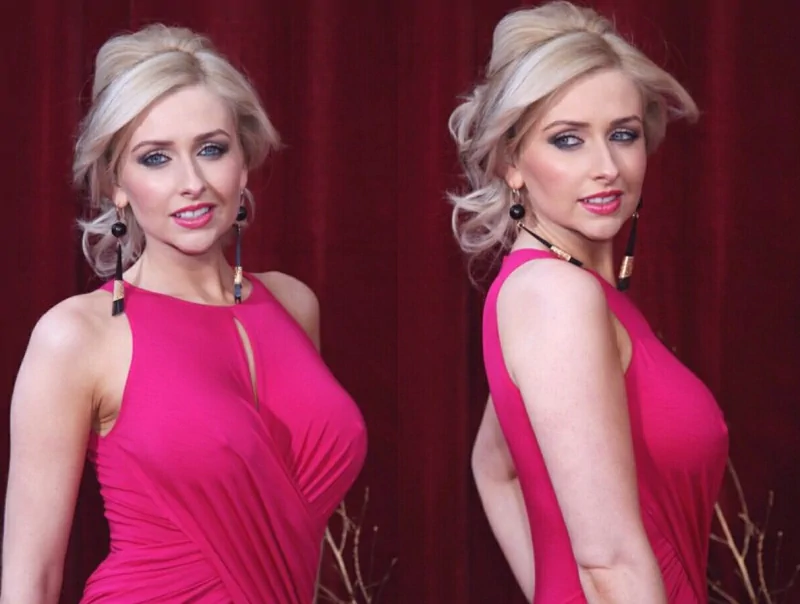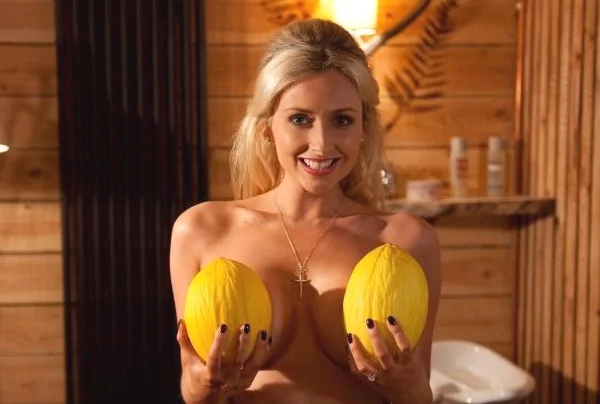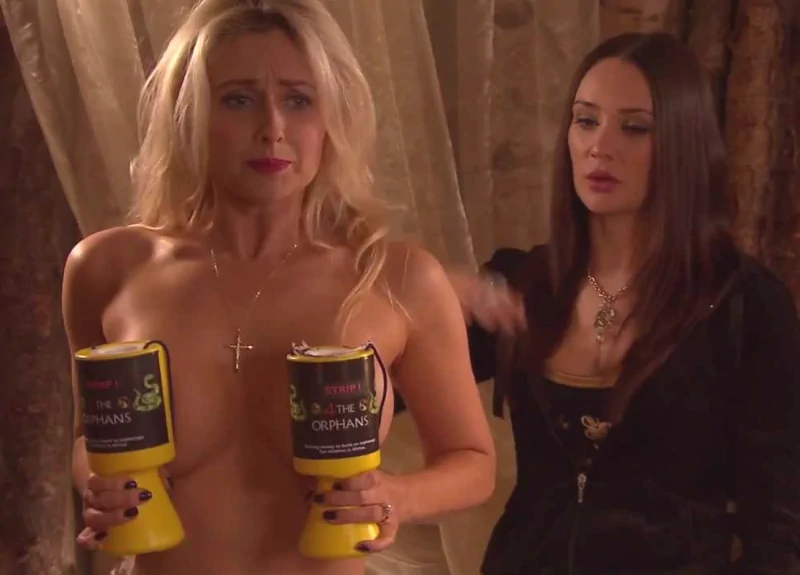 Nice melons, Gemma!