Check out beach babe Britney going fully nude in the sand and sea in these pics and video she posted to social media. What the censors didn't see is that she had a nipslip which we have frozen below for your enjoyment 😜
Britney's nude video is at the bottom after all the nude and topless pictures…
Britney Spears Groping Her Own Tits At The Beach
Sometimes a handful of boobs is the best de-stresser on the planet, so it's a bit of a mystery why so many women run around like headless chickens and turn every perceived drama into a crisis. Woman logic aside, Britney has had quite a shitty few years of late, so no small wonder that she turns to nature's very own calm the fuck downs, aka, breasts. Owning a tasty looking pair, that look pretty firm and juicy despite being in the over 40 club, not only does she give herself a good tit grope, but kindly shared her strategy on her social media account so that we may imagine grabbing a handful of Brit's boobies and giving them a nice playful squeeze or several: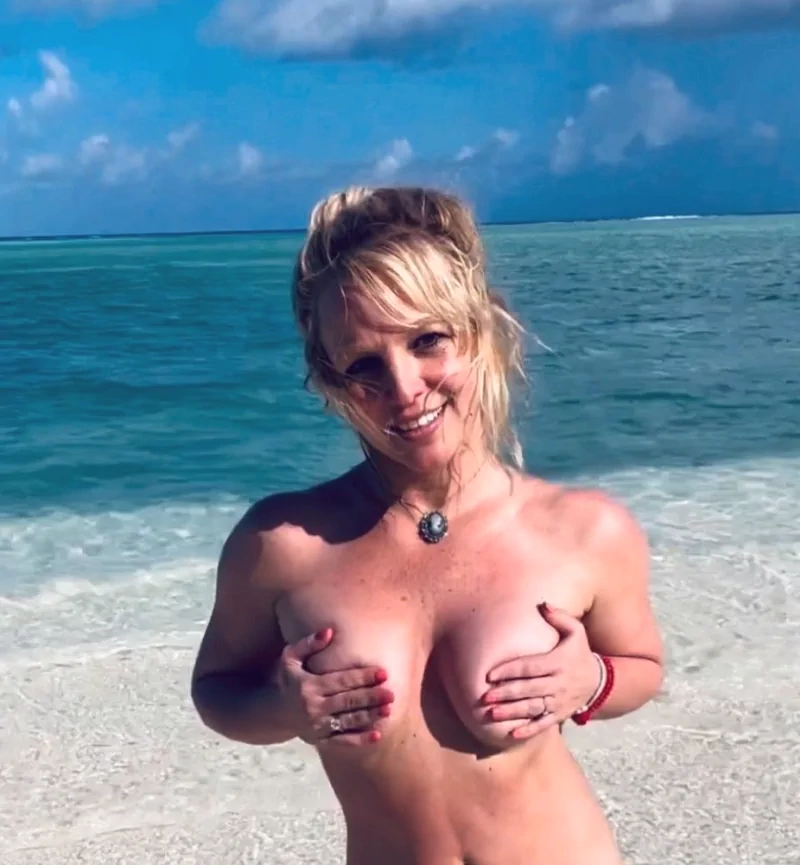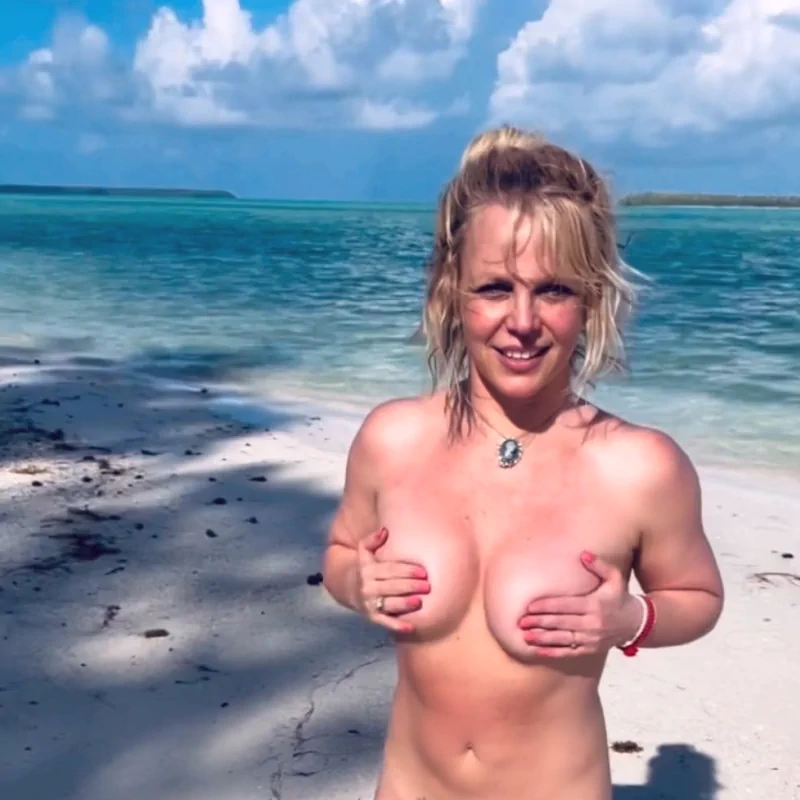 You can see in the above photo that the saucy Ms Spears has no clothes on at all, with the barest of hints of a tanline across her pussy area, so it's a fair bet she does quite a bit of nudity whilst catching the rays, otherwise it would be more pronounced. Good for her – there's something about the sunshine on your genitals that is truly freeing (if you've never tried a clothing optional beach, you really should!) 😁
Showing a glimpse of left nipple (that's the right as you look at the pic, for the simple out there) peeking over her finger, it's no wonder instagram moderators were all over this, in fact it's pretty surprising they allowed even the areola to be on show: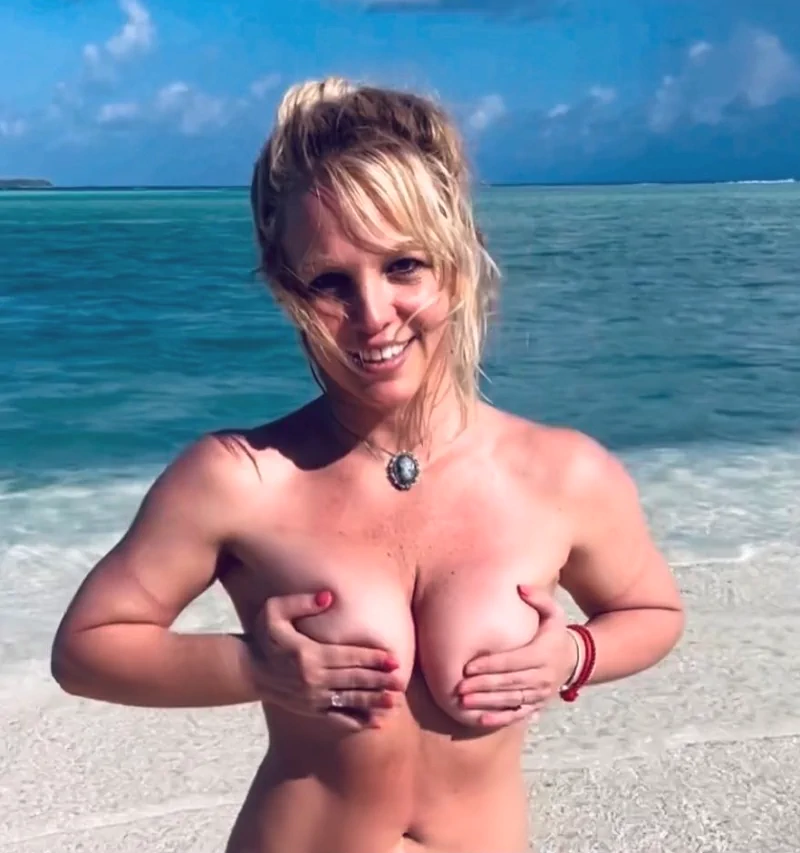 The final image in this particular set of exhibitionism from Britney ends with a good old push your tits together pose, and as much of a show off as she is, the stickers came out to hide her erect nipples lest she face the wrath of the pearl clutchers: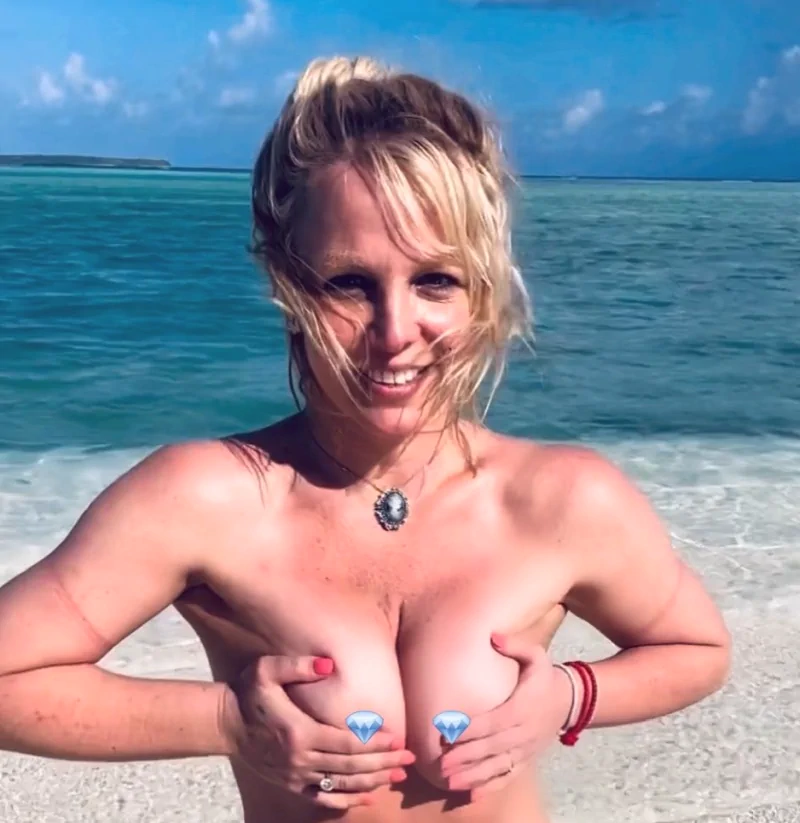 As if that little lot wasn't enough to melt the servers, full length nudes soon followed! Here they are:
Britney Spears Fully Nude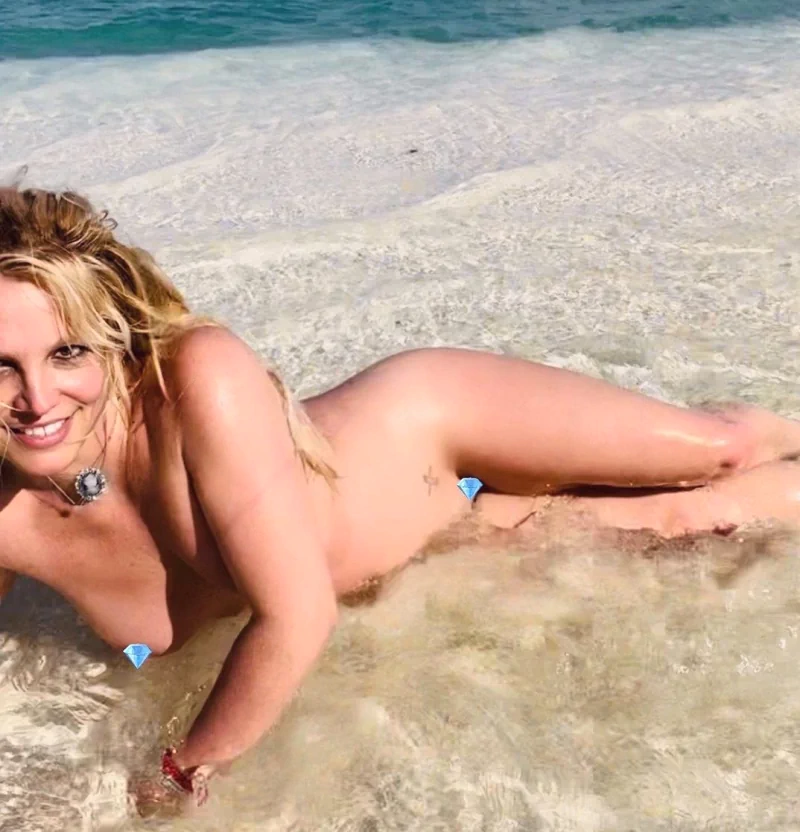 Notice how the emoji thingys are the tiniest she could make them, for maximum exposure – god, we love this girl! Of course, she is no stranger to displaying the goods, as the infamous Britney Spears pussy pics showed us, shaved bald lips and all.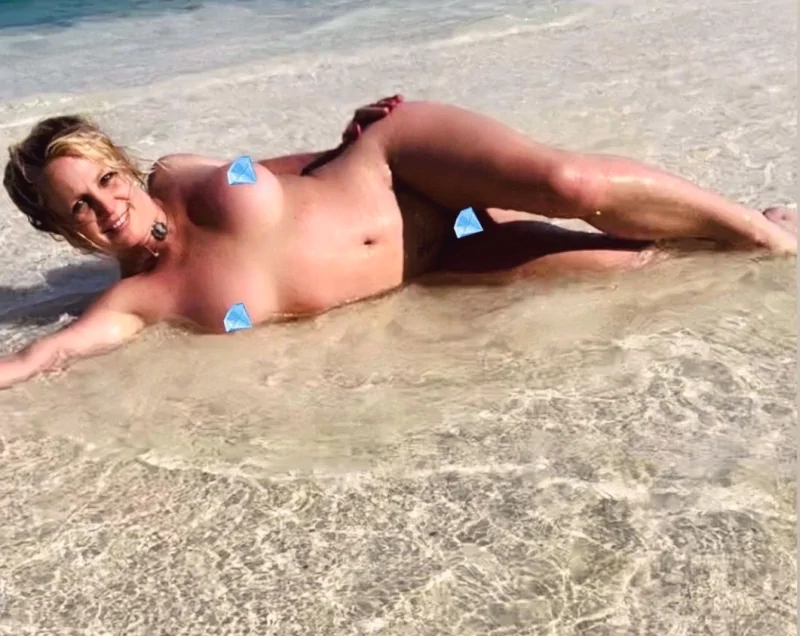 A safe bet that there has been a bit of surgery work done there on her ta-tas, but we don't mind, because tits!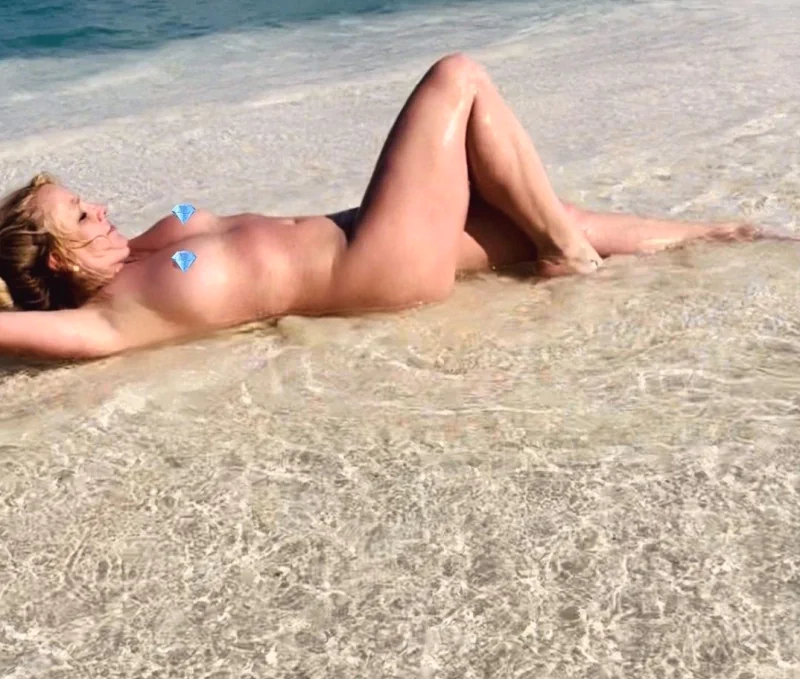 You can't blame her either for taking a glance at her vagina, even if it IS her own, it's still Britney's pussy 😜🥳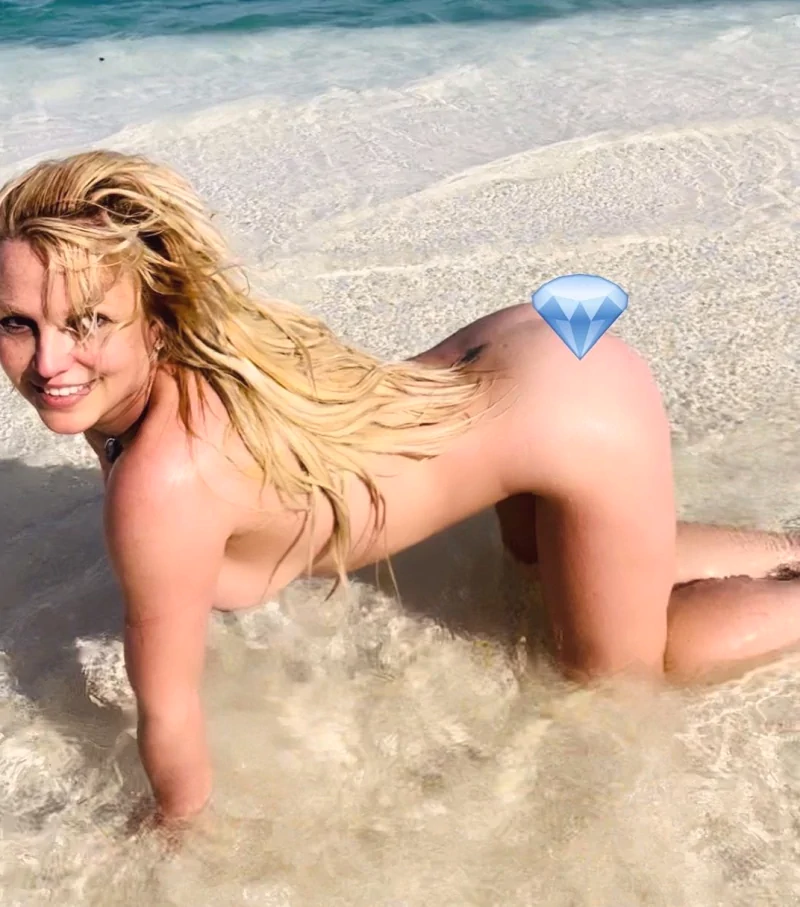 And the famous arched back waiting for a cock to pump her doggystyle position so beloved by wannabe models, and a vast array of nude celebrities alike. Well, it is a top shelf maneuvre, so a hat tip for working it into her vacation snaps 👍
Britney Spears Nude Beach Video
Ok so she cheated and put her bikini bottoms back on in order to get away posting a clip, but see if you can spy that almost imperceptible nipple as she turns. And don't worry if you don't see it, because we froze the frame for you, warm-hearted degenerates that we are!
Britney Spears Accidentally On Purpose Nipslip
Here's the extracted frame clearly showing Britney's nipple visible as she rolls over from her back onto her side. The cheeky minx! Fancy thinking that we at CelebMeat wouldn't spot that – we can spot exposed nipples from a mile away!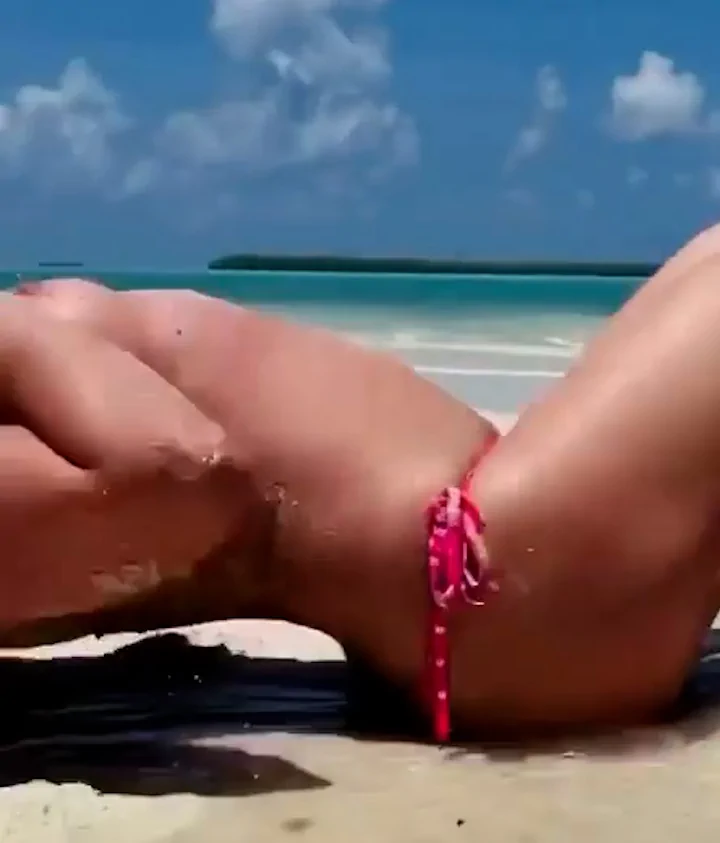 Welp, that's enough chatting for one article, time to go off and have a wank over Britney's naked frolics – and if you enjoyed these, in whatever interpretation of the word you choose, then take a look at the full collection of celeb videos (18+ ONLY!) 🥳
Original photo & video source: Britney's instagram