Wowing onlookers at Coachella 2023, Madison Beer personified the word sexy as she flaunted her big tits in a very revealing outfit.
Sparking rumors that she has undergone a boob job, Madison donned a see through bikini type top that left very little to the imagination. Which was nice of her, as it frees up more space for thinking of what we'd like to do with, and to, those bad boys.
Coachella is basically a music festival, it's full title being almost as much of a big mouthful as we'd like to give Madison: Coachella Valley Music and Arts Festival. It is a yearly event at Empire Polo Club in Indio, California. It's also become well known for a place where skimpy outfits alongside sometimes 'naughty' behavior abounds.

Keeping with the style of crotcheted clothing, Madison arrived in a white jacket tucked in to her top to make sure her massive cleavage was uncovered. Eyebrows were raised, eyes were popped, and pant twitches were performed. As always Madison gives off strong Megan Fox vibes. Same facial features, sorta the same tits, and the body plus dress code being very similar. A threesome with that pair would go down a treat.
Madison Beer Big Tits Gallery
Madison's ass was also on show as she made her entrance to the festival in a pair of butt cheek hugging shorts. After what we guess was a quick refreshment of some kind or another it was time to parade around for the cameras and crowds. The brunette babe sure knows how to work that perfect body of hers, if nothing else.
Putting on quite the oh don't mind me I'm just some girl at a festival performance, Madison managed to get her sexy big tits to become the center of attention. It appears Ms Beer has pasties covering her nipples, but they do seem pretty see through also. What an entertainer she really is. By the way you can compare how her titties look on her Madison Beer nudes page. They definitely look larger here, though apparently a little underwire goes a long way, so it may just be the revealing top she is wearing at Coachella.
Madison Beer Parading Her Big Tits At Coachella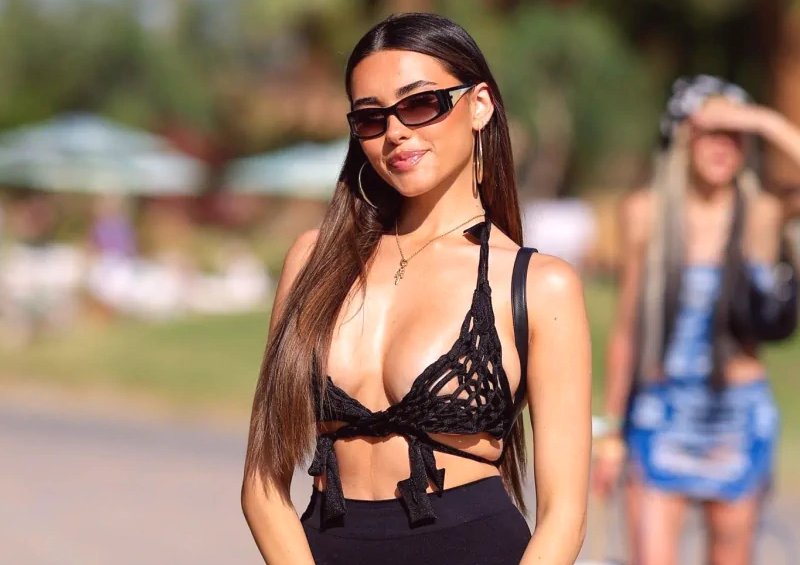 All that walking about and showing off your curves in a skimpy outfit in public is thirsty work. What better way to energise than by posing for a completely candid off the cuff moment by the pool with sponsors Celsius Oasis drink and their brand coincidentally framed perfectly for the camera. They haven't unofficially named this year's offering as the Influencer Olympics for nothing! There is another weekend of the festival to run (it consists of 2 3-day weekends in a row) so undoubtedly there'll be much more of Madison and a few other celebrities to boot strutting their stuff.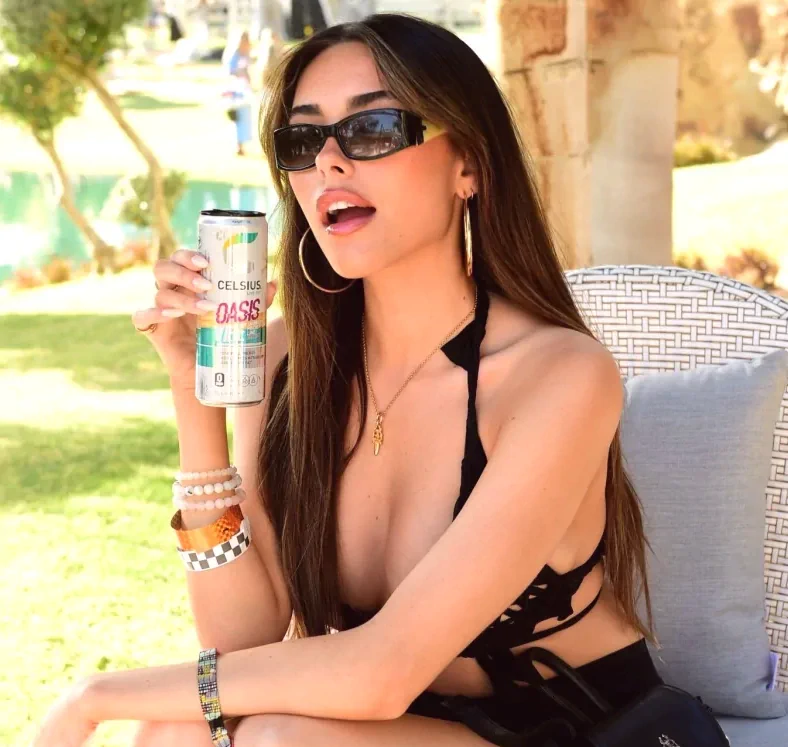 We aren't sure who the blond chick here with Madison is, so if anyone knows please leave a comment below and we can name her. And with any luck she is also a celeb we can get our hands on some sexy and/or nude pictures of to share with you guys.