Well, where to start with big tits attention whore Trisha Paytas… the BBW exhibitionist celebrity certainly isn't shy, that's for sure!
The buxom blonde was a contestant, or as they like to call it, a housemate, on Celebrity Big Brother in the UK, for series 20. She walked out after 11 days, for reasons we have no fucking clue about whatsoever, and don't particularly care to find out.
This youtube star with attitude for days an an ass to match doesn't hold back when it comes to the controversial either. Take a look at all the Trisha Paytas nude and sexy moments, interspersed with trivia on Trisha and her massive mammaries below.
Trisha Paytas Has Huge Tits
Hardly a revelation but God Fucking Daaaaamn Son, Trisha has some lungs on her. Those bad boys come in at an impressive 36DDD count 'em that's three Ds right there. They weigh an outstanding 'fuck me those are heavy'. There's a joke here somewhere as well about 'would you like to wahey! my tits'. You can make your own version of it 👍
That's a beach ball by the way, not a third breast. Trisha would do great in a basketball lookalike contest though. As we can see, her bazookas are almost popping out of Trisha's bikini, and we doubt it's a size small. When your titties are this big, it's hard to not let slip some accidental nudity. Trish manages it on this occasion though, with only the bottom half of her boobs on show here. Well, the top half too, but she managed to keep her nipples from escaping. Trisha had better luck containing her nude boobs in these bikinis (click for full pictures):
Original images are from her instagram, which you can see further below in Trisha's official links section.
Trisha Paytas Nude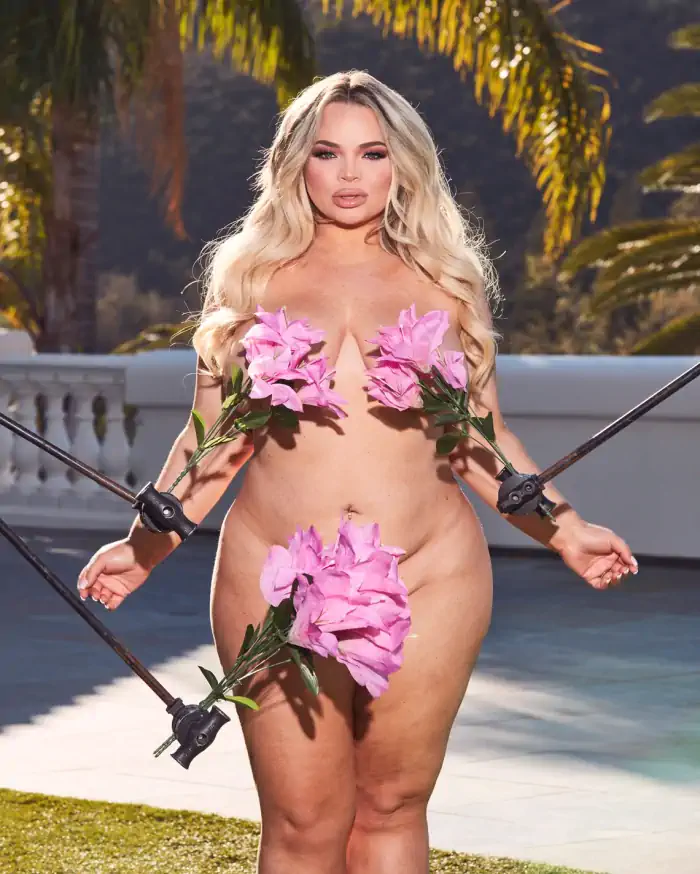 Always pushing the body positive line, Trisha has no qualms about embracing her fuller figure, or being totally naked and indeed, posting explicit masturbation videos on her OnlyFans. She clearly gets off on people watching her wanking, and good for her! I'd pay women to watch me knock one out, ladies have no idea how lucky they are to be able to charge for it! Trisha posed naked while pregnant for her social media, and top marks for managing to actually covering her ample milk filled tits. Quite the feat!
Did you know:
Trisha Paytas is a second degree black belt in Taekwondo
Trisha believes that vampires are a "real society & many of them are in jail for killing people"
Trisha Paytas has 1 album and 6 music EPs each containing 5 songs under her belt as of 2022
Trisha has 6 published books, including a collection of poems about one of her ex-boyfriends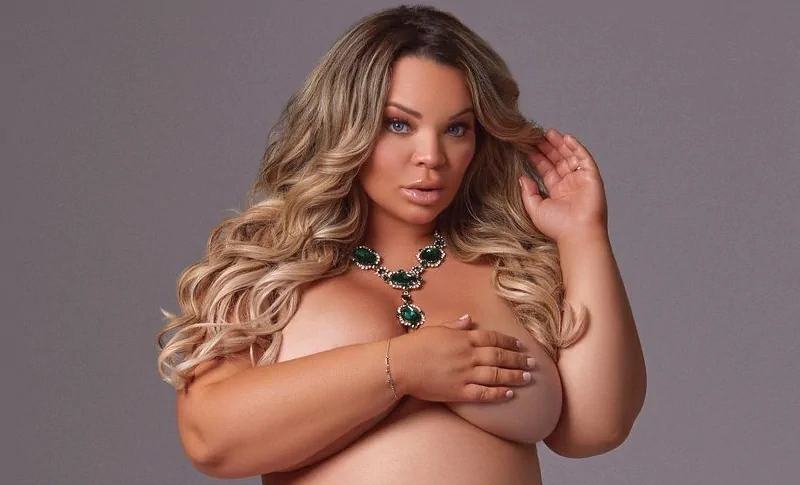 Fine pair of big mama titties on the nude Trisha Paytas!
Who doesn't love stripping naked and jumping in the jacuzzi! Trisha stripped bare for these snaps she posted on social media. We won't ask where those bubbles are going, but the girls in the office say not much beats a water massage on your pussy. That *is* a big smile the clothesless Trisha has on her!
Trisha sharing her naked tits to her Instagram page. Ahoy there torpedo titties!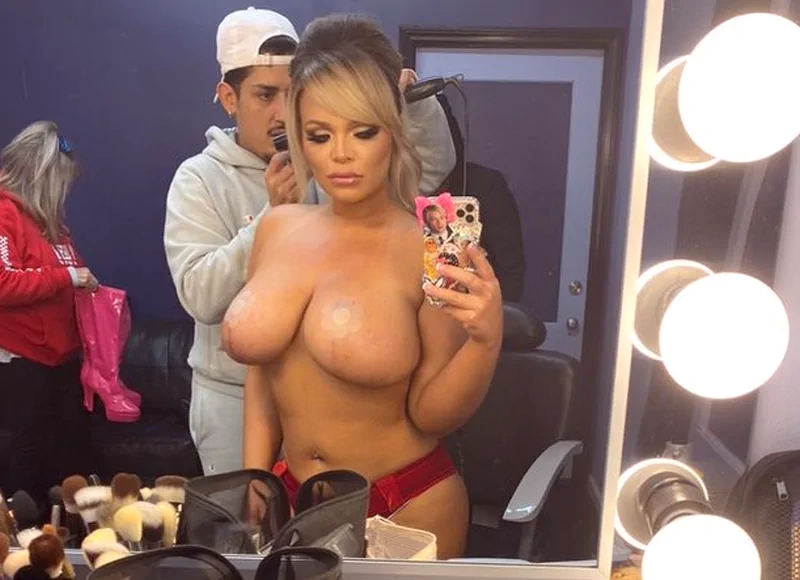 Speaking of which, Trisha loves showing off her mighty melons in various clothes and bikinis:
Trisha Paytas Sex Tape
Trisha Paytas once made a porn tape with adult filmstar Riley Reid. The pair had lesbian sex, and Trisha put the video on her fan site.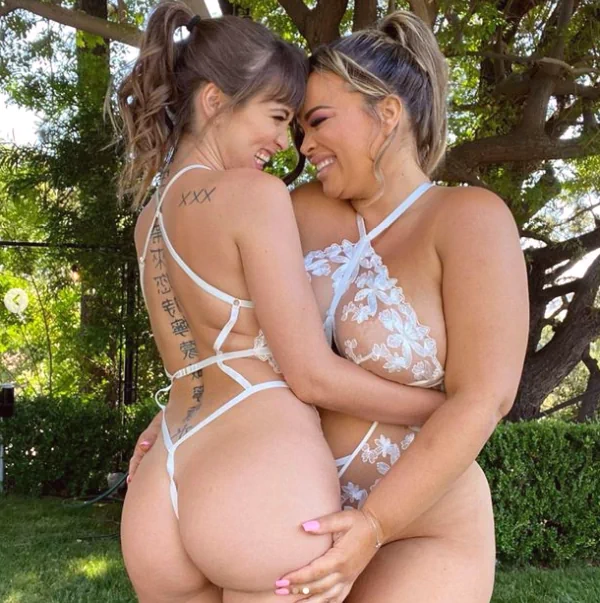 Posting on her social media pages, Trisha told followers that they could see the home porn video by coughing up the entrance fee to Trishyland – the name of her fanclub. All of Trisha's nude selfies go on the account. Trisha claims she's sucked the cock of many a fellow male celebrity. Here's an idea of what that looks like, as Trisha performs oral sex on a lollipop:
Trisha Paytas as Fat Jessica Simpson
Trisha Paytas fucking Eminem, kinda, in a role as Jessica Simpson from the Dukes Of Hazzard reboot, part of Eminem's music video for We Made You. During one of her slimmer eras, the busty blonde looks pretty good, and does a great job parodying the Daisy Duke character. Trisha referenced this music video on her insta, saying "they were casting for a 'fat Jessica Simpson' lol and I thought damn if I don't book this job, I might as well pack it up and call it quits". Trisha has a great sense of humor obviously, and doesn't mind poking fun at herself in a lighthearted way.
In some of her YouTube videos Trisha admits that she is insecure and addicted to plastic surgery, but usually acts as the confident type to cope with her insecurities. Trisha explains that she never felt attractive at school and became addicted to plastic surgery. Her weight loss/gain swings are well known, and she is now comfortable whichever cycle she is in – and good for her.
The strange allure of Trisha Paytas is that she doesn't care; she just proudly and unapologetically gives zero fucks about what anyone must think.
Trisha uploads content ranging from undeniably entertaining YouTube podcasts, eating challenge videos, and personal vlogs in which she shares her relationship advice and personal confessions, to full blown nudity, masturbation, and fucking herself with dildos. Trisha's youtube account has over 4 million followers, and videos dunking on the likes of Jeffree Star and Shane Dawson have gone viral. Her nude videos are available if you CLICK HERE – be aware the link is nsfw, and for over-18s only!
Trisha has also claimed to have slept with many celebrities and said there is not a single body part of her that is genuine. In addition to her online presence, Trisha has appeared on several regular television shows, including "I Want to Be a Hero," appeared on the popular reality TV show The Real Housewives of New York City, and several episodes of the television series American Idol. There still hasn't been a bikini made that can handle her infamous gigantic tits though!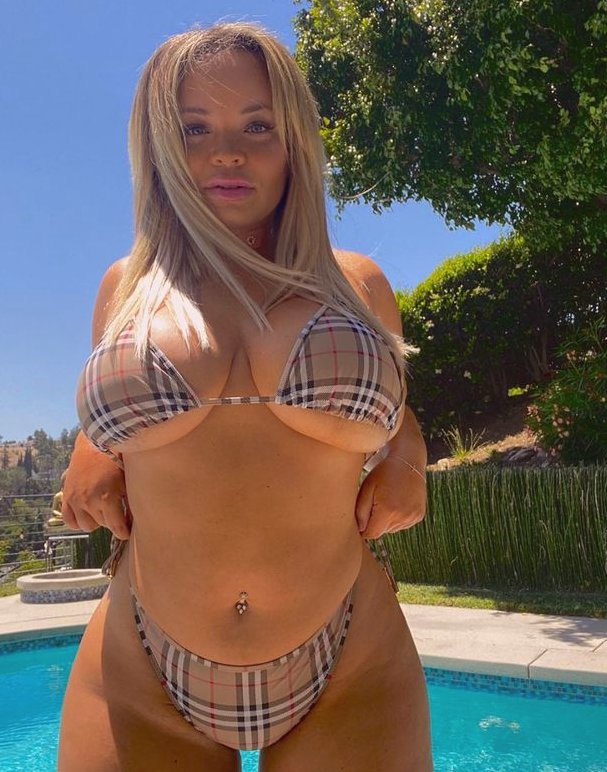 Trisha Paytas Official Links