Here we have Kim Kardashian naked and oozing sexiness from every pore in these videos and pics of the hottest celebrity A-lister on the planet right now. Scroll down to view them plus even more nudity from Kim. Love her or loathe her (and we fucking LOVE her) you have to be pretty fussy not to want some of those big tits, shaved pussy, and inviting lips that were made to be wrapped around a cock.
Kim is a girl that knows how to tease old school style, unafraid to use her big tits and smoking body to get attention. From bra busting downblouses, sheer tops while braless, and just going flat out in her birthday suit including full frontal shaved pussy publicity shots, Kardashian shows zero shame in flaunting her assets. It's worked a treat, catapulting her from socialite to business queen worth a staggering billion dollars. No mean feat, and Kim is super savvy about using her sexuality when she knows it'll get the job done. Be warned there is LOTS of nudity on this page as Kim strips off to show us her naked body in ALL of it's natural glory! Let's get this tits, ass, and pussy parade show on the road.
Kim Kardashian was born 21st October 1980, making her one of the last of Generation X.
In April 2021, Kim achieved a net worth of $1 billion thanks to her various business ventures.
The now infamous Kim Kardashian sex tape shot her into the spotlight, allowing her to utilise the publicity to her advantage.
With a breast size of 38″ and a cup size of 34D, Kim's boobs are almost as famous as the woman herself!
Kim Kardashian Nude Pictures
It's no secret that Keeping Up With The Kardashians star Kim just absolutely fucking LOVES taking her clothes off to bare all. Obviously a nudist at heart as well as a pretty blatant exhibitionist, the second eldest sibling in the clan delights in showing everyone what nature gave her. A dab hand at posting her naked selfies, feast your eyes on this collection of pictures Kim herself published online. Talk about an attention seeker!
We'd like to know which friend took the last couple of pictures that has Kim flashing her boobs and showing off her ass. It may well have been Ray-J, her fellow performer and then boyfriend who posted the couple's very explicit sex romp online. The dirty dawg!
What finer excuse is there for taking off all your clothing and posing au naturel, than under the guise of oh I wonder what I look like as a silver person. Kim delivers once more as she answers the question none of us were asking.
No Kim Kardashian naked article worth it's salt is complete without showing the pictures of Kimmy's appearance in Paper magazine and their famous 'Break The Internet' stunt. It didn't exactly break anything at all except maybe a load of people into a sweat as they jerked off to the naughty photo spread. Here's a reminder of the 2014 shoot for our enjoyment.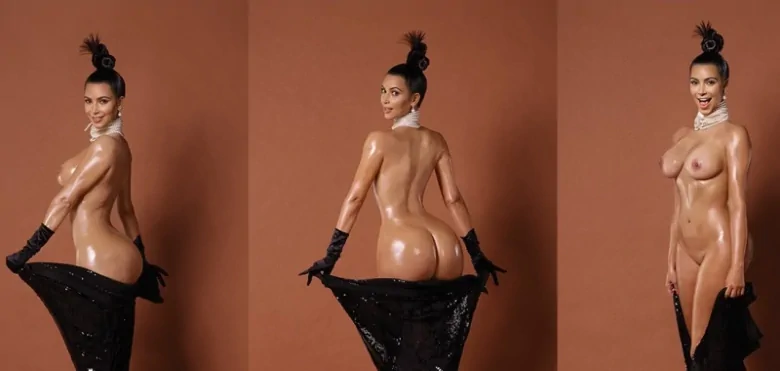 Judging by Kim's very erect nipple in the center pic below it looks like she was enjoying herself too!
Kim K went even wilder the following year, as in 2015 she disrobed for Love magazine leaving absolutely nothing to the imagination. The culmination saw a fully naked Kim oiled up wearing nothing but heels and a fake fur coat as she aired her shaved and actually quite pleasing to look at pussy. Those big milf celebrity tits were also of course out on parade, and with hands on hips peering down at the camera, it's almost like Kim is watching you wank. Oh, to have the chance at that in real life! You know she is probably game for it too.
Here's that amazing last photo brightened a touch so we can really get a good look at Kim Kardashian's pussy lips all shaved and oiled.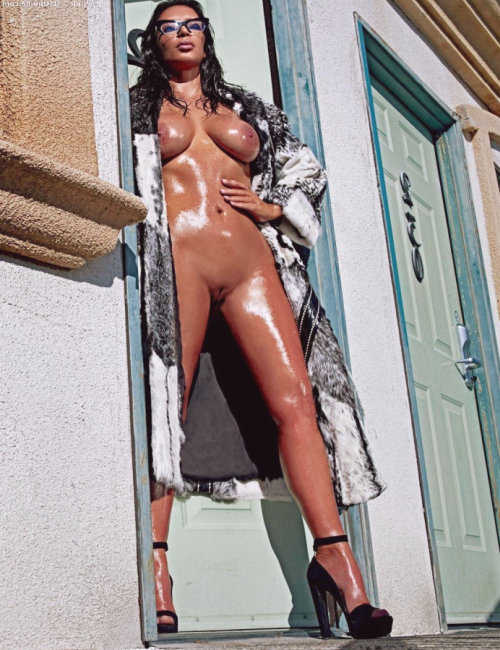 Kim Kardashian Nudity Videos
Completely unfazed by being the only naked person in the room, here's a behind the scenes video of one of Kim's unclothed picture shoots. Everyone from the lighting guys to the photographer as well as this videographer is there, and not an eyelid is batted by our brave superstar!
Keeping up with Kardashian's big tits we have this clip in an ultra low outfit that squeezes her boobs together beautifully. The lady knows how to work her body for the camera.
No wonder Kim decided to whip off all her clothes for this next video, it looks hot as fuck in the desert there. Not entirely sure Ms Kardashian has the hang of putting that sunscreen on, though at least her chest bazookas are protected from burning up!

Kim's Sexy Big Tits On Show
Like many a Gen X girl before her (Kardashian was born in 1980 so is not a milennial as she likes to claim!) Kim knows breasts are a woman's best weapon. Whatever the occasion, you can bet that if Kim is there, she'll likely be showing off her bazooka sized boobs.
The above outfit is from way back in 2016 when she was still getting fucked regularly by Kanye. You can see the full gallery of her stepping out for Kanye's Miami show in September of that year by peeking at the rest of these truly eye-popping pictures of Kim's tits falling out of her dress here.
If you think that was a daring outfit, check out this selection of Kim in a highly revealing dress. Managing to show cleavage, underboob, and sideboob all at the same time, Kardashian put on a public thirst trap for the crowd of paparazzi. All of whom were waiting for the brazen brunette to have a wardrobe malfunction and a titslip. There wasn't (nor a nipslip) on this particular occasion, and Kim sung the praises of the Mugler creation for keeping her breasts from escaping.
Who teams a see through low cut corset with Adidas track bottoms – why, Kim does of course! And she looks sexy as fuck with her massive cleavage once again on proud display. She did well to keep her chest puppies from spilling out, as we can see in the pictures below.
Here's the full gallery of the above fight between Kim's tits and that see through lace top. A few more examples of Kimmy showing her ample bosoms with links to the picture galleries of her heaving chest.
Winding down from this celebrity tits and pussy fest we check out the busty babe braless in see through clothing.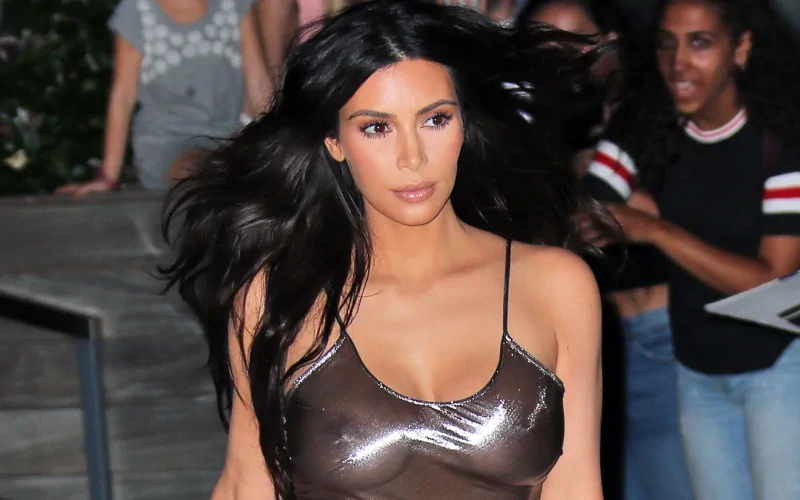 The gift that keeps on giving, the superstar shows no sign of slowing down the nudity even as she passes 40 and goes from milf territory to what is classed as mature. Earning a solid A+ for being as unclothed as possible, being nekkid as often as possible seems to be the mantra the most famous Kardashian of them all lives by. Our cocks salute the bold as brass serial disrober as we thank Kim for her service!